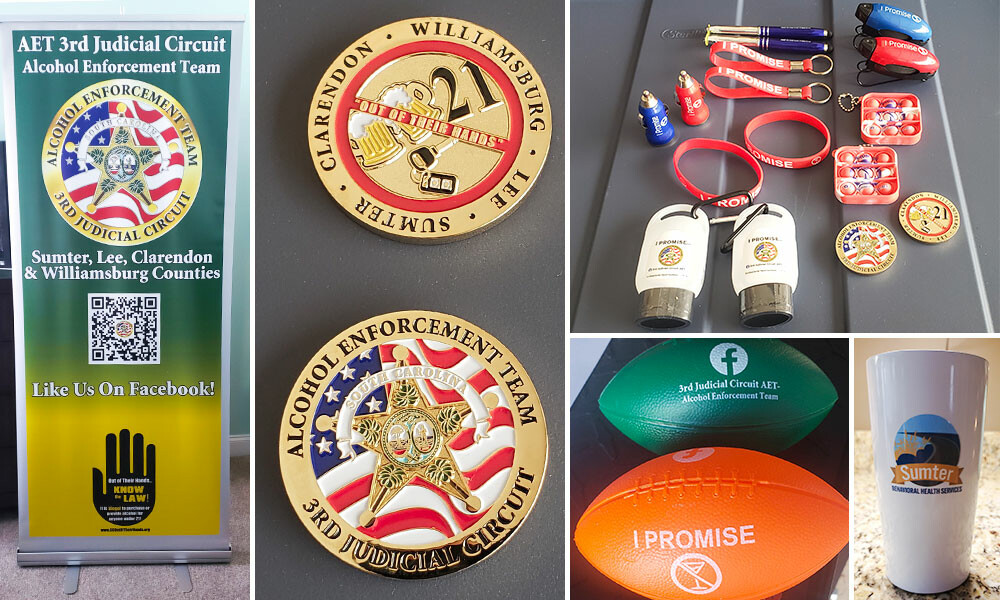 Customer Spotlight: 3rd Judicial Circuit Alcohol Enforcement Team
Celebrating an agency that helps keep teens safe!
---
Each month, we showcase one of our great customers. For April, we're spotlighting South Carolina's 3rd Judicial Circuit Alcohol Enforcement Team
Scott Myers is the coordinator for the AET. The program is dedicated to preventing underage drinking and drunk driving in the circuit's four-county jurisdiction.
The program is administered by Sumter Behavioral Health Services. The organization offers a range of additional services, including substance abuse counseling, group treatment programs, pre-trial intervention and much more.
The AET program uses a multi-pronged approach to increase awareness of the risks of underage drinking, alcohol misuse and drinking and driving.
"We came up with our own campaign of "I Promise…" and used that slogan on the items we purchased," Myers said.
Although Myers had ordered product from another company before discovering TJM, our customer service won him over after one order.
"After making my first purchase with (sales representative) Matt Maio, I then decided to use your company for all other items needed and wanted. Customer service was one of my reasons for returning each time," he said. "My first purchase was made simple and easy. That was a plus.
Matt made me feel important and made sure I was completely satisfied each and every time I made purchases. I chose to deal with Matt each and every time because of his knowledge, persistence to help me, follow up from him, and friendly service."
Myers added more praise.
"He always made sure I was completely satisfied with all products I ordered. I have ordered a lot of items from your company the last year, and Matt has gone over and beyond to assist me," he said.
"If I needed ideas, Matt had them. If I needed his assistance, a phone call or email was sent and he returned back to me quickly. He truly cares about the success of your company and the satisfaction of your customers."
The custom imprinted items Myers has ordered from TJM include, among others:
Wristbands
Wristband keychains
Sunglass holders
Hand Sanitizers
LED Keychain whistles
Highlighter Ink pens
USB car chargers
Mini Footballs
The AET also purchased "Prom Promise" banners for 15 area high schools. "We had students sign the banners during Prom Promise events, where they promised to not drink or ride with someone who had been drinking on prom night," Myers said. "During these events, the "I Promise…" campaign items were handed out to bring awareness to this."
Myers also ordered custom challenge coins, LED pens, trophies and tumblers to use as recognition and incentive items for prevention and law enforcement personnel who work with the AET.
Our pricing also drew Myers' praise.
"Price was cheaper than the previous company I used first. I referred others to you and they have stated that you all were cheaper than the previous company they used, along with friendlier and quicker to get their product. I will continue to not only purchase from TJM, but continue to refer your company to others for their needs in products. You guys have everything!!"
When asked how we could better serve our customers, Myers offered a simple reply.
"By continuing to hire the staff that makes sure each and every customer is satisfied and friendly," he said. "Your staff cares about the customer and their satisfaction of the product ordered."
We're grateful to Mr. Myers for his confidence in our team and our products, and honored to serve an important organization. We look forward to continuing to provide AET with first-rate promotional products and outstanding service for years to come!
For more information about the 3rd Judicial Circuit AET:
Web: https://sumterbhs.org/alcohol-enforcement-team-aet/
Facebook:
https://www.facebook.com/AET3rdJudicialCircuit