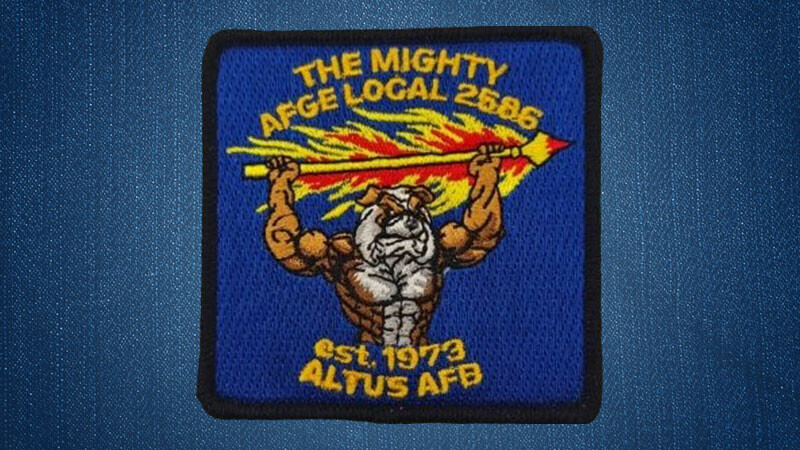 Customer Spotlight: AFGE Local 2586
Intricate design for a patch is no problem for us!
---
Our spotlight shines on a "mini but mighty" customer this month, AFGE Local 2586. When it comes to representing civilian employees at Altus Air Force Base in Oklahoma, Local 2586 of the American Federal Government Employees Union is on the job.
"We represent the civilian employees here working for the Air Force, said representative Michele Elliott said. "AAFB is a small training base, with a high percentage of civilians working to help provide training to Air Force pilots on three heavy airframes. Maintenance on these aircraft is done entirely by the civilian work force. Being a small base, we may be mini, but we are mighty!"
When the union wanted to create patches for a membership drive, Elliott thought of custom patches.
"One of the ideas I came up with was to give bucket hats to the new members. I had the patches made to sew on to the hats," she said. "The sun here is relentless and any help to keep the members cool is a plus."
Elliott created a patch that featured a fearsome bulldog clutching a flaming spear. The spear is the symbol of the 97th Air Mobility Wing, which is based at Altus AFB.
"The bulldog represents the mini but mighty Local 2586. We are aggressive and our bite is fierce," she said. "We do all in our power to protect and defend the employees doing their job to keep our country safe."
She tried to have the patches made at a local company near the base in Oklahoma.
"They said it was too intricate of a pattern to make a patch," she said. "We get uniforms embroidered locally and tried to use them for this, but they said it couldn't be done.
So, I took to the internet and searched for military style patches, and it brought us to (TJM). I wanted to make three-inch patches that our members could put on their uniforms. You guys came to the rescue. I didn't think we could, and here they are."
Our talented design staff and state of the art production facilities were able to accomplish the desired look," Elliott said.
"I had no idea what I was doing, but your guys asked the right questions and put up with my changes, and it ended up GREAT! You could do what others couldn't. You got the product to us quicker, cheaper, and better than we expected."
Reaction to the patches has been positive, she added.
"We are using this also as a branding tool to start the 'Mini but Mighty' name to the local," she said. "The few we have given out, (people) love them. They like the look and the ability to support the local and show their solidarity with AFGE."
When asked if she would order from TJM again, she responded with an enthusiastic "ABSOLUTELY! I am trying to dream up a reason to have something made."
Wow. Thank you for that ringing testimonial, Michele! We appreciate your business and look forward to continuing to serve the custom patch and other promotional products needs of AFGE Local 2586 in the future.
For more information: https://www.facebook.com/AFGELocal2586Public/