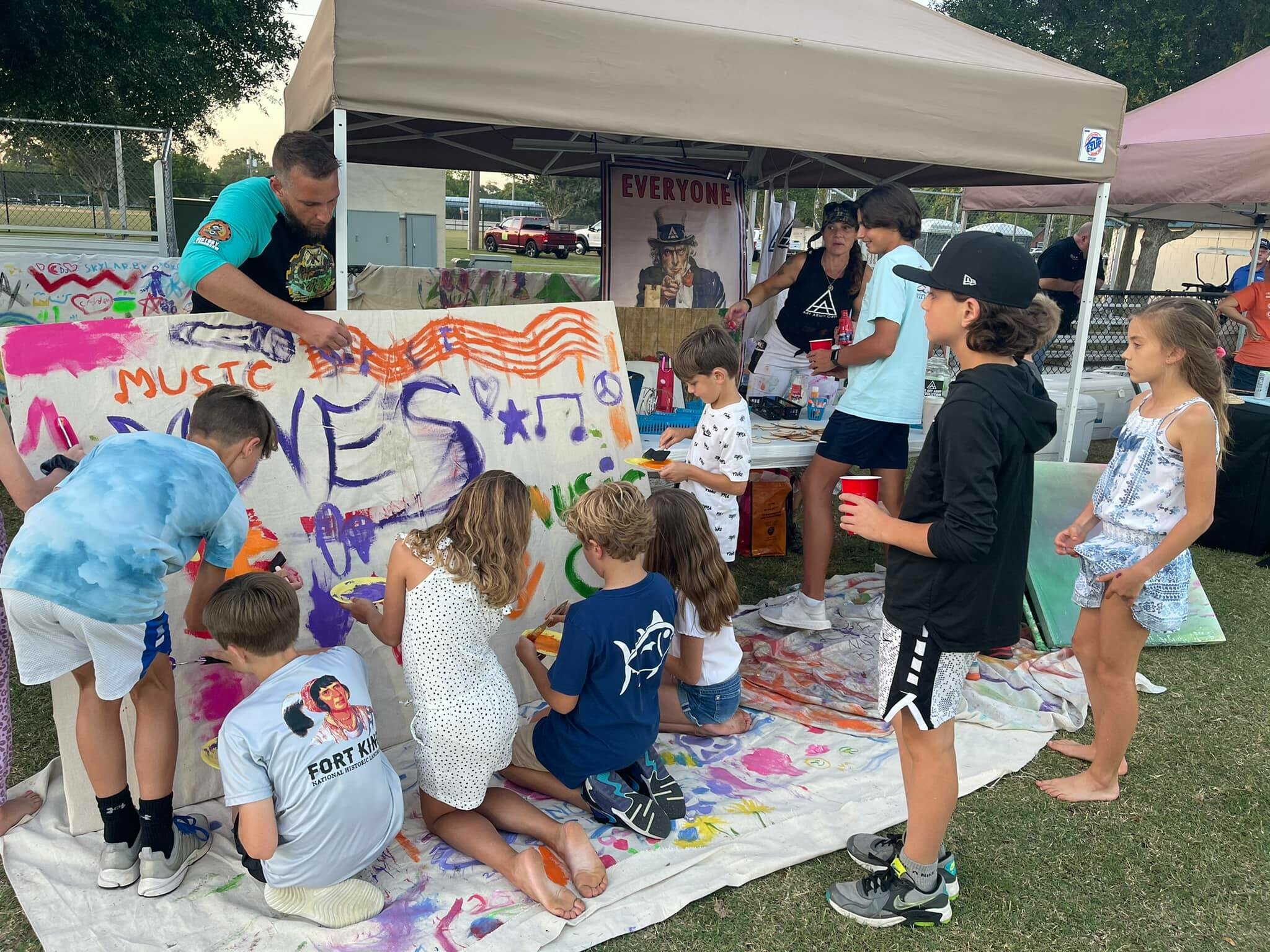 Customer Spotlight: Art Army Ocala
Supporting local artists as they support us!
---
We celebrate one of our great customers each month. For August, the spotlight shines on a local nonprofit, Art Army Ocala!
Darian Mosley believes everyone is an artist. The president of Art Army Ocala is dedicated to the idea that anyone can be creative.
"Art Army Ocala is a nonprofit organization dedicated to helping people discover their inner creative self by providing access to experience different types of artistic expression. We were formed in Ocala six years ago," she said. "We host several events throughout Ocala and greater Marion County ranging from performance art to visual arts, collaborative storytelling, and much more."
Art Army Ocala was looking for a way to raise its local profile. Promotional products fit the bill.
"They were mostly for general promotion of our organization with the goal of raising awareness in the community," Mosley said.
Fortunately, Mosley and others in the organization already had TJM connections.
"We have the good fortune of being friends with several TJM team members and having learned of the services you provide through word of mouth, along with seeing so much community involvement from TJM," Mosley said.
Our reputation for supporting local arts didn't hurt either.
"Aside from the personal references, the sponsorships that TJM has provided for some of the other arts organizations here in Ocala was a big factor in the decision to go to TJM for all of our promo materials."
Even so, we weren't necessarily the first choice.
"We have previously purchased shirts from another provider, and were not nearly as satisfied with the customer service we received, or the overall product quality," Mosley noted.
Our signature service quickly won her over.
"The artists who have helped bring each of our designs to life were incredibly adept at translating the descriptions and ideas we provided into perfect images for the pins and shirts," she said. "I always deal with Matt Fischer to place orders and he is always prompt, professional, and courteous. We have always been impressed with the speed at which our orders are fulfilled as well."
Art Army has gone on to purchase multiple products from TJM.
"We have purchased multiple orders of shirts (tees and tanks)," Mosley said, "as well as other promo materials including silicone bracelets & soft enamel pins, and we love them ALL! These products have helped us to achieve recognition in the community and have helped us to grow our individual projects as well through elevating our brand.
We just ordered another round of tanks specifically to promote the performing arts outreach (Brick City Glam) and that series of events (Menagerie at Mutiny)."
The products have been well-received.
"Everyone who has seen or attained one of our TJM products has been very happy with the item," Mosley said. "They have even been asking 'where did you have these made?' They are all fans of TJM now too!
We are so grateful for TJM being part of our community and for the promo materials we are able to share with our supporters because of the stellar pricing, products, and customer service we continually receive from your team," Mosley continued. "We will continue ordering from TJM for all of our promo needs, especially the awesome shirts! Keep being awesome!"
We appreciate the kind words, Darian. We're always excited to help promote the arts and our local community. We look forward to continuing to serve Art Army Ocala in the future!
For more information:
https://www.facebook.com/artarmyocala/