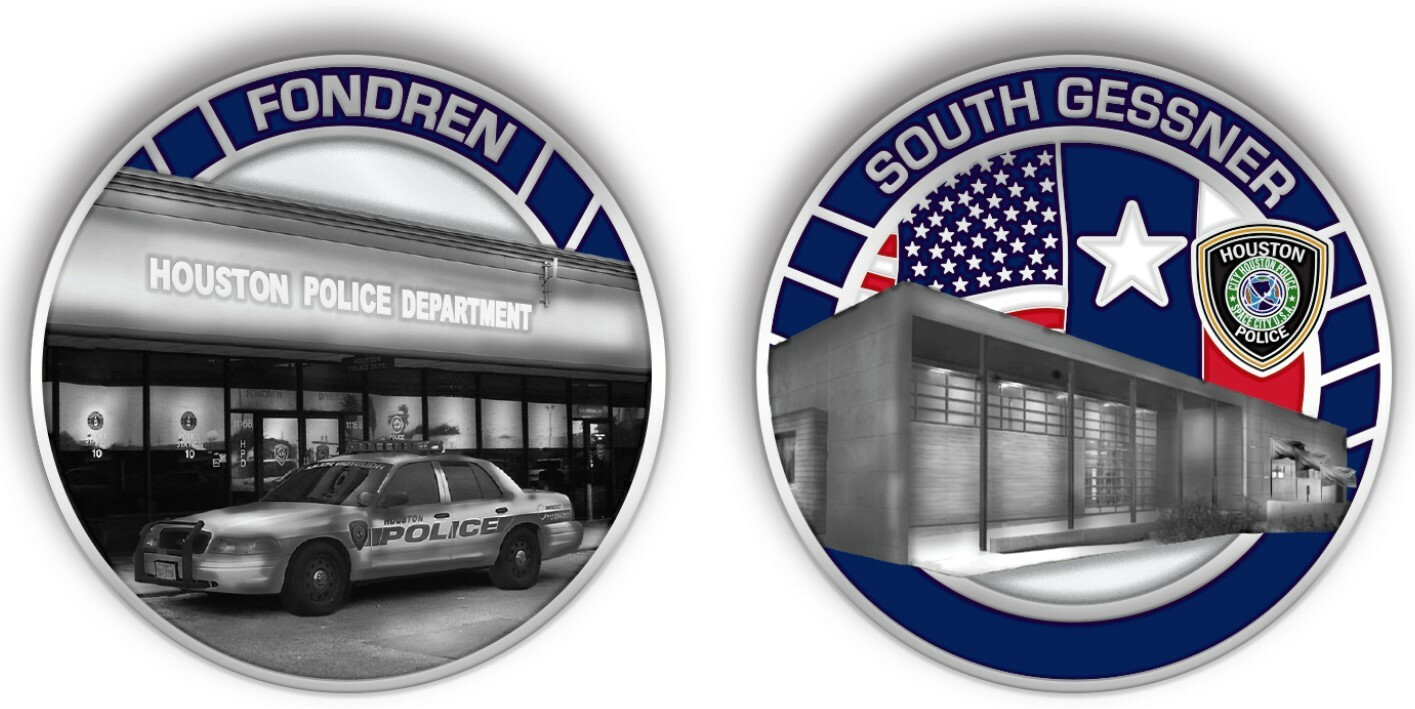 Houston Police Department South Gessner Station
Custom Coins to Commemorate Both The Future and The Past
---
Challenge coins have long been a staple of military units, and in recent years have become popular in public service departments as well. Just ask Officer George Potter, who leads a team of officers in the Houston Police Department.
"We are a Crime Suppression Team that serves warrants and conducts proactive investigations," he said.
When the department replaced the city's Fondren Station with a new one known as South Gessner, Potter sought a way to honor the old station while celebrating the new.
"We are now South Gessner Station, but prior to 2012, we were Fondren Station. So what I wanted to do was pay respect to the old station that gave most of us, including a few of our Chiefs, their start."
His thoughts turned to challenge coins, but he wasn't certain where to shop. With a recommendation, he sought out TJM.
"The Houston Citizen's Police Academy Alumni Association referred me to you," he said.
Experience Counts
At TJM, we have 20 years' experience designing custom challenge coins for law enforcement agencies and other first responders from around the nation and world. We take special pride in the coins we're able to create for those who put their lives on the line to keep us safe.
Our talented graphic artists were able to refine Potter's vision for his coins into a work of art that respected the features of both the Fondren and South Gessner stations.
Two Stations, One Coin to Represent Both
"The Fondren side is a picture of the old Fondren substation. The South Gessner side is of the new station" he said.
The Fondren side of the coin features an almost monochromatic look, its stark black-and-white imagery broken only by a blue partial border over the top right section, featuring the word "Fondren."
The reverse side with the South Gessner station removes the police car featured on the Fondren side. That's offset by a much greater use of color, including an American flag, a Texas star on a blue background and a Houston Police emblem on the right side. A broad blue border encircles the building, and features the words "South Gessner" at the top.
What really sold Potter was the talent of our artists and their dedication to outstanding customer service.
"The quality and detail of the work, the willingness to help us achieve our dream design that best represents us."
Reactions to the coins has been universally positive, he added.
"As far as the Gessner Station coin goes, everybody loves them," Potter said. "It's popular with current officers, as well as many recent and not so recent retirees. They have heard about the coin and sought to get one."
Officer Potter has since ordered other coins from us as well.
"I was the hold, my indecision," he said. "Once I signed off on everything, they came in fast. Price was more than fair for what we received."
Thank You, Officer Potter and HPD
We're grateful to Officer Potter, the Houston Police Department and the Houston Citizens Police Academy Alumni Association for their confidence in TJM Promos. We look forward to continuing to serve their custom challenge coin and other promotional product needs in the future.