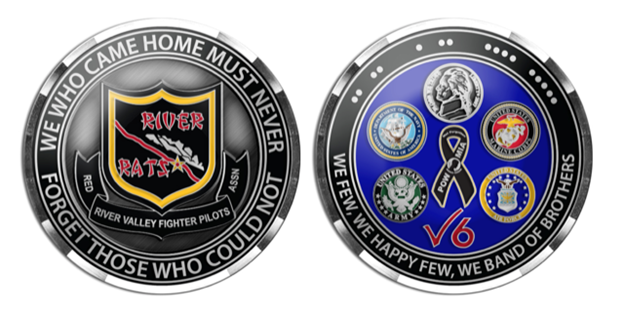 Customer Spotlight: Red River Valley Fighter Pilots Association
Honoring and remembering those who flew fighter aircraft over Vietnam
---
For the "River Rats," flying has a special dimension. Formally named the Red River Valley Fighter Pilots Association, the organization was founded by and for fighter pilots who flew in the Vietnam War
Over the past six years, when the River Rats needed custom challenge coins to commemorate their wartime and postwar experiences, they have turned to our ChallengeCoins4Less division.
"CC4L has been outstanding to work with," said Craig "Pontiff" Pope, the group's museum director. "Starting with excellent customer service, then working with designs and revision with the art team. They do first-rate work. Taking a group's information and making it a challenge coin has been great."
Started in 1967, the association has expanded to include any U.S. military aircrew member, and non-aviator associate members. All told, the River Rats now number more than 4,000 members nationwide.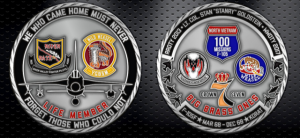 The group got its formal name from the river near Hanoi and Hai Phong over which they flew. The association was founded to support the aircrews and their family members. To date, it has awarded more than $2.7 million in scholarships to children and spouses of aircrew members from the Army, Air Force, Navy and Marine Corps.
When Pope wanted challenge coins for a group reunion, he turned to us.
"Before 2016, I did not know what a challenge coin was. When I started working on the challenge coin in 2016 for our reunion, I shopped around to 5 or 6 challenge coin companies," he said. "CC4L was the quickest to respond, and had excellent customer service when I called and started asking how the process worked.
The pricing was very competitive. I was working with the reps, and seeing what my drawings looked like after the art team made the proofs made it easy to go with CC4L. "
Responsive Customer Service Wins Praise
He offered high praise for other aspects of our customer service as well.
"Sometimes I have been given a request for a fairly last-minute design. CC4L has worked with me to get the design turned around and finished so that they could be 'in hand' for the events. So far, I have not missed a deadline, even when we started with a short time frame," he said. "To say the groups were happy would be an understatement."
Pope discovered he enjoys designing challenge coins for both individuals and groups, and seeing his ideas come to life with the help of our graphic artists.
"Since the first coin I made in 2016, I have done over 70 coin designs with CC4L, with a few groups having more than one coin style," he said. "I do it for fun, don't charge anything, as it is my way of paying it backwards and forwards to the groups and members."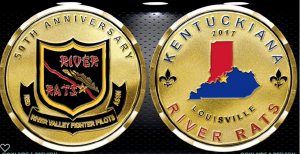 It's not always easy to fully capture wartime accomplishments on a coin, he added.
"I research the group or individual, and it is a lot of fun to see what I can get into a design. Sometimes it is hard to get it onto a two-inch challenge coin, as some of them could probably have a five-inch coin with everything they have done."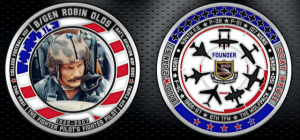 (Brigadier General Robin Olds was a co-founder of the River Rats)
Coins for Both Commemoration and Fundraising
The groups might want coins to commemorate achievements, or to sell for fundraisers, he noted.
"Almost all the coins I design are bought and handled by those groups. I just do the design for them," he said. "For coins offered by the River Rats, all proceeds go to funding the museum and the scholarship program."
The River Rats also are working in conjunction with the Aviation Heritage Park in Bowling Green, Ky., to create a museum for both groups. The museum is on track to have a grand opening in October of next year.
Reactions to the coins have been universally positive, Pope said. He attributes their success to our talented graphic artists.
"The groups and individuals love the coins when they see them," he said. "They think I have a real knack for the coins, but I give credit to CC4L for their ability to turn my thoughts and ideas into a great-looking product. If you can come up with an idea and do a little doodling, CC4L can make you a coin."
Advice: Keep It Simple
He offered a bit of advice to others who might be considering custom coins.
"One thing for those who are designing a coin: try not to put too much into the design, especially if it is getting small in font size," he said. "Sometimes the simpler a design, the better. But have fun and see what CC4L can do for you."
Mr. Pope is one of many satisfied customers we've earned through outstanding quality, value and customer service.
"CC4L is my go-to company for challenge coins," he said. "I never intended to get into the challenge coin designing 'business,' but CC4L makes me look like I know what I am doing when the finished product is in your hand. Keep up the great work!"
We are honored to be able to serve our distinguished veterans, and we appreciate the River Rats' confidence in us. Thank you, Mr. Pope!
For more information about the Red River Valley Fighter Pilots Association:
For more information about the Aviation Heritage Park:
https://www.aviationheritagepark.com
For more information about the Aviation Heritage Park/River Rats museum: