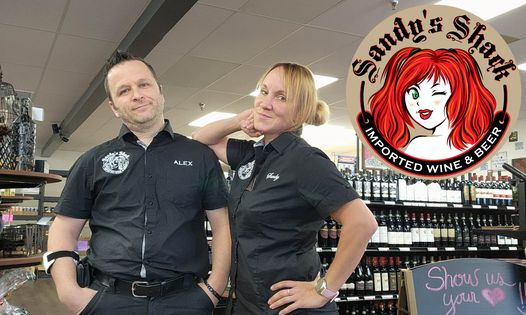 Customer Spotlight: Sandy's Shack
This month, we celebrate Sandy's Shack!
---
We especially love to showcase our local Ocala businesses in the Customer Spotlight. This month, we feature Sandy's Shack Imported Wine and Beer!
When Alex LeKid and Sandra Tremblay moved to the Ocala area, the Canadian couple quickly spotted a need for something new.
"When we moved in the region in August 2021, we noticed the same wine brands everywhere, and decided to change that," Sandy said.
So they did what any good entrepreneurs would. They opened their own wine shop, and named it after its co-founder.
Sandy's Shack is a nearly 3,000-square-foot shop selling imported wine, imported beer, craft beer and gifts.
"Our main focus is to be different from everyone else," Sandy said. "We carry what others don't and don't carry what they do. As simple as that!"
The business began to grow.
"We are happy to realize since we opened that people thrive to try new things and are also tired of the same brands, everywhere, all the time," she said. "We do free wine tastings on a regular basis to teach people about wines they never heard of and get them out of their comfort zone."
The co-founders started with imprinted t-shirts from another source, but wanted to move their look upscale with an embroidered design.
Online research for a better shirt proved frustrating at first.
"We were looking for a local business, as we prefer that over dealing with monsters like [a big national printing chain.] We were VERY disappointed by most companies referred to or reviewed on Google." Sandy said.
Finally, they found TJM.
"We established a connection with (TJM) and dealt with Matthew (Fischer, TJM Director of Client Relations) who gave us answers fast. Most companies don't even bother to answer nowadays."
Matt and our graphic artists weren't afraid to tackle the challenge of the complicated (for embroidery) Sandy's Shack logo.
"In the beginning, some competitors were offering to 'simplify' our logo," Sandy said. "Matthew said, let's see what my graphic team can do… and they made it work!
Everything went great. We met with Matthew who listened carefully to our needs, he sent us a proof, we approved and the magic happened!"
The shop has ordered more apparel from us, and customers love it, she added.
"It just made us look more professional. People love our new look … Everybody is asking us where we got our coats and shirts from because the quality is beyond!"
When asked what we could do better, she offered a simple response.
"Keep it up, we are happy to have found you guys!"
Thanks, Sandy, for that vote of confidence! We're grateful to Sandy's Shack for your business and look forward to serving you for years to come. And do you have any final words of advice?
"Life is too short to be always drinking the same wines!"