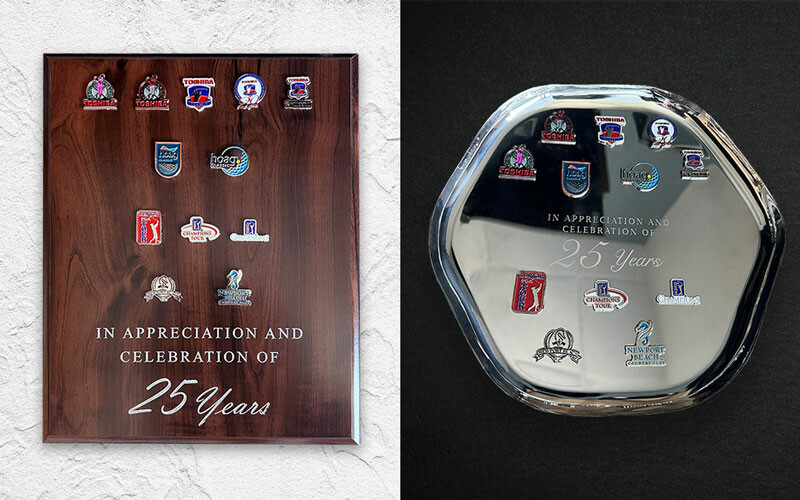 Customer Spotlight: The Hoag Classic
We recently had an opportunity to provide custom pins to a prestigious PGA Tour Champions event.
---
This month's Customer Spotlight features the Hoag Classic. We recently had an opportunity to provide custom pins for the event.
The Hoag Classic recently celebrated its 25th year under the sponsorship of Hoag Memorial Hospital Presbyterian, based in Newport Beach, California.
The Classic is an annual PGA Tour Champions golf tournament to benefit the not-for-profit health care system and other Newport Beach charities. To date, it has raised more than $20 million for charity. The event is the only PGA Tour Champions event held in Orange County. It draws more than 70,000 patrons, 250 sponsors and 800 volunteers each year.
This prestigious event draws some of the finest senior PGA golfers in the world to the Newport Beach Country Club each March. In addition to winner Ernie Els, the 2023 tournament field included, among others, Fred Couples, John Daly, Padraig Harrington, Davis Love III, and Jim Furyk.
In honor of the anniversary, the Hoag Classic purchased custom pins from us that featured all of the event's past historical logos.
"We created a 25-year appreciation plaque that has all the logos on it," said Hoag Classic representative Allie Layne. "We handed them out to long-time sponsors, vendors, individuals and executives who have been involved with the event or supported the tournament since its origin, or made a significant impact to the success of the event."
The Hoag Classic heard about TJM from one of our other customers, Layne said. Our commitment to service helped seal the deal.
"You had the product we needed for a reasonable price, and quick turnaround time."
The plaques were a hit with recipients. "It provided an elevated aesthetic for the presentation of our past logos," Layne said. "Everyone thought it was a very nice piece of memorabilia."
The buying experience went well too.
"Price was great, the turnaround time was fantastic, the quality was perfect."
All of us at TJM are grateful for the opportunity to serve a prestigious PGA Tour event, and to help a longstanding nonprofit organization such as Hoag Memorial Hospital Presbyterian. We appreciate the confidence shown in our work, our pricing and our customer service. Thank you, Allie for your kind words. We look forward to serving the Hoag Classic for many years to come.
For more information:
https://twitter.com/HoagClassic