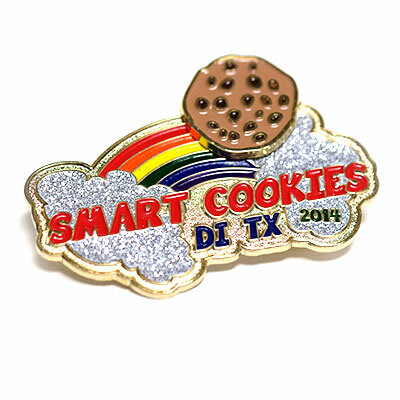 Order Trading Pins NOW for Destination Imagination Global Finals '22
Now is time to order pins to get them in time for Globals
---
It's no secret that the Covid-19 pandemic has disrupted many events both large and small. That includes the Destination Imagination Global Finals. For the past two years, DI's premier annual competition has been a virtual affair with no opportunities for in-person socializing or pin trading.
For 2022, that's all changed. DI has announced the return of Global Finals as an in-person event, held in Kansas City in May. And to enable the greatest number of students to participate, the competition is open to all active DI teams this year, not just those advancing from state or regional competition.
That opens up a wealth of new opportunities for creative students from around the world to solve STEM (science, technology, engineering and math) problems in a fun, exciting, competitive atmosphere. And it means making new friends along the way.
If your team is considering going to Global Finals this year, remember, one of the most popular aspects of the event is pin trading. Ask just about anyone who's been to Globals and they'll tell you it's one of the highlights. It's a great way to meet new people and turn strangers into friends.
Now Is The Time To Order
And there's never been a better time to order custom trading pins than right now. With the big event less than two months away, and shipping delays still a possibility, it's best to order well in advance.
It's easy to order custom pins. Get your team together and brainstorm some ideas. Use your creativity to craft a design that represents your team and its members. Be bold and proud of your team name and your style and swagger!
Once you've created your design, it's just a matter of sending to a reputable pin provider. The company will send you a free digital proof that you can edit and revise until your design is just what you want.
Don't forget to add some bling to your design. Options that add pizazz to your look don't have to be expensive. A very popular choice is glitter enamel. This economical add-on really makes your design pop with added color and sparkle.
If your budget allows, you can add even more trading power to your pins. Spinners, danglers, bobbleheads and even custom LED lights all make your pins more valuable at the trading table.
Just remember, the clock is ticking. Don't wait! Be sure you have your team's trading pins in hand by the time you set out for Kansas City. Order today!