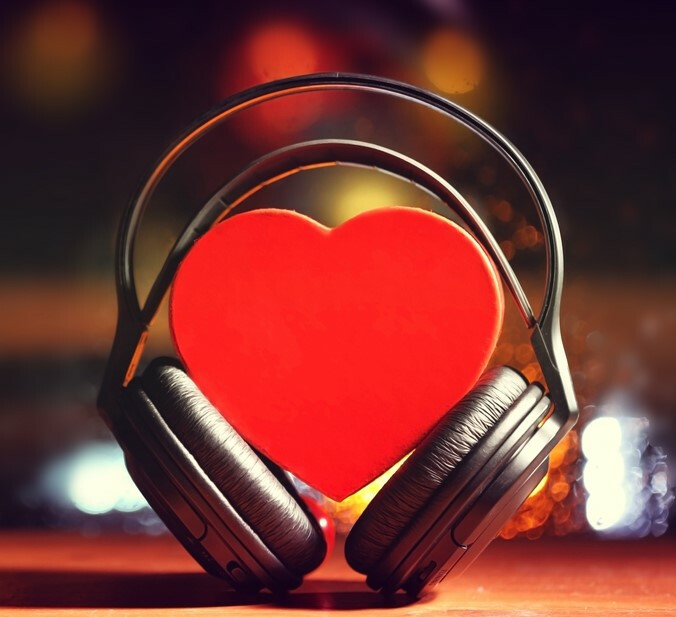 Our Favorite Love Songs!
For Valentine's Day, we asked our staff to name their favorite love songs.
---
As Shakespeare once wrote, if music be the food of love, play on! It just wouldn't be Valentine's Day without music. We asked our staff to tell us their favorite love song. As you'll probably notice, we defined "love song" pretty generously. Here are a few of our favorites:
Lena Ruotolo
So, I change favorite love songs all the time. I'm a sucker for love. I'm partial to "2's My Favorite 1" by Coheed and Cambria, (Chance and I danced to the acoustic version of that song for our first dance at our wedding), but right now I really like "Grow as We Go" by Ben Platt.
The song is literally about growing and changing together. It's a nice sentiment in general, but when you're high school sweethearts like we are, it's inevitable. Growing up is scary, but love and marriage is like a built-in buddy system where you can challenge each other to be the best that you are, wherever you're at in life. So as the song says, I think it's "better that we grew up together."
Matt Fischer
"I have traveled across the universe through the years to find her. Sometime going all the way is just the start". Cue the helicopters and police cars in hot pursuit of someone, something, on a motorcycle blasting down the highway, like a bat outta hell. In comes the piano, guitar, and drums -- the scene is set, you're hooked. The best love song has got to be the power ballad "I'd Do Anything for Love (But I Won't Do That)" by Meat Loaf.
First of all its a LONG song and the accompanying music video described above is a cinematic masterpiece. Its a beautifully written and sung duet. While its obvious what Meat Loaf will and wont do for love, as he openly sings about it - many people make their own personal assessments, which really adds to the appeal.
I cannot even begin to think of a better love song than this, so do yourself a HUGE favor and go onto YouTube right now, and set aside the next 8 minutes to sit down and watch the music video, take it all in, and decide for yourself what you will and wont do for love this Valentine's Day.
Angel Dominguez
Never really relied on a song to define love. Always felt love can't be described by words. I feel songs are, by the most part, selfish (what is in it for ME, how it makes ME feel, ME, Me, me).
If I were to choose a good love song, It would be "All of Me" by John Legend or "I'll Stand by You" by The Pretenders. These songs shows that there is turmoil, despair, and everything a real relationship has to endure in order to survive.
Rick Cundiff
So many great songs. Do I choose Jim Croce's "Time in a Bottle," the song my wife and I danced our first dance to at our wedding? Or Glenn Frey's "Part of Me, Part of You," the one we called "our" song when we were dating?
Good choices both, but after 30 years of marriage, I have to go with John Lennon's "Grow Old with Me," as sung by Mary Chapin Carpenter. It's the perfect recipe for a forever love. "Grow old along with me/The best is yet to be/When our time has come/We will be as one /God bless our love/God bless our love."
Matt Maio
There's so many awesome love songs, so it's hard to choose. I'd have to say my favorite love song is a '90s reggae classic "Everyone Falls In Love" by Tanto Metro and Devonte. I really love '90s reggae and this one is a shining example of why. Another of my favorites is "Everlong" by Foo Fighters. It's just one of the best rock songs of all time, and makes you feel the love without it being too sappy.
Shannon Moore
"A Sunday Kind of Love" by Etta James. It's sweet to me. Reminds me of that long term, grow old together kind of love. Substance.
Anthony Caruso
Journey – "When You Love a Woman." Journey with Steve Perry was my first concert in 1980. Have seen them well, let's just say I can't count the number of times. Never get tired of seeing them.