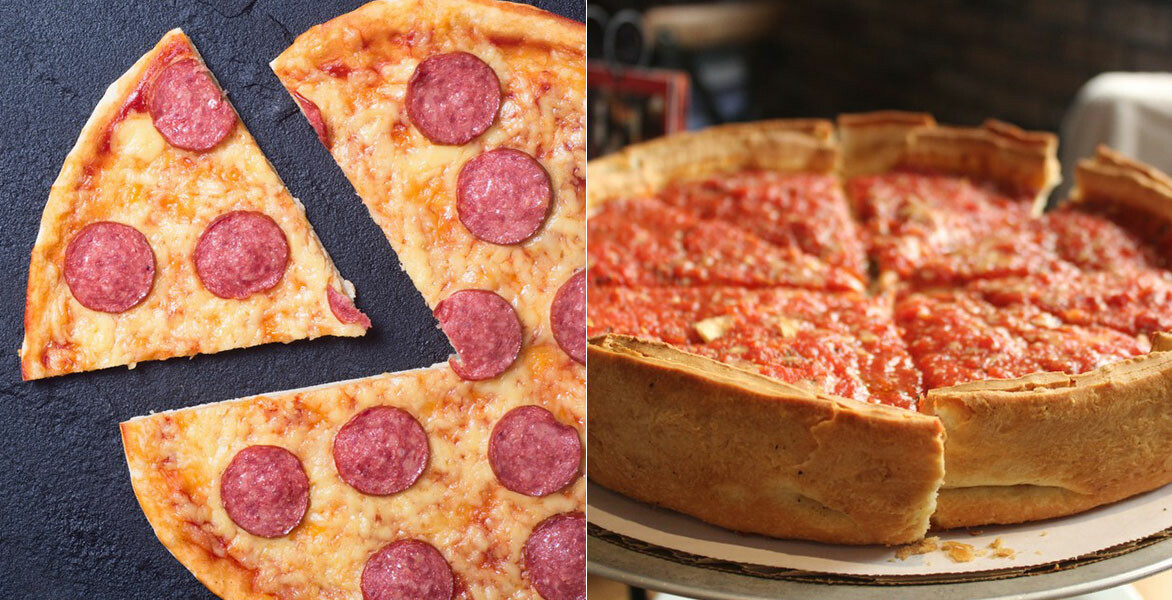 Pizza Wars! Deep Dish Wishes and Thin Crust Dreams
New York? Chicago? Dayton? (Dayton?!?) Whose pizza is best?
---
With National Deep Dish Pizza Day coming up shortly (April 5), we decided to check out the pizza preferences of the TJM crew. New York vs. Chicago, the Great White Way vs. The Windy City. Thin Crust or Deep Dish?
Who knew folks could be so particular about their pizza prerogatives? Then, just to give people a little something extra to chew on, we asked THE pizza question – pineapple, yes or no?
We might not agree on the style, but we can certainly agree that answering these questions made us hungry!
SHANNON MOORE:
Which is the best pizza?
NY Style (thin crust)
Too much bread in the Chicago Style (deep dish).  Some are okay because the dough is just that good, but I don't want my toppings swimming in sauce like a pool of tomato soup. Gross.
Bonus question: Pineapple on Pizza — Taste Sensation. The sweet and salty is perfect. I also enjoy adding ranch to that party.
MATT FISCHER:
Where to begin….I have very strong opinions on pizza. I frequently go on my "pizza diet" when the wife is out of town and I am left unsupervised for dinner. I am an equal opportunity pizza-ist, I love it all.
Now that I have laid the ground work, I will say I love New York style pizza due to its availability, portability, and quickness for which it can be prepared. BUT, they pale in comparison to the flavor and experience of eating a true, authentic Chicago deep dish pizza.
A Numero Uno from the original Pizzeria Uno and Due in Chicago is something to experience (and yes they taste different than the chain restaurants of the same name). I am also a firm believer that pineapple absolutely belongs on pizza.  I have yet to hear a good reason as to why it wouldn't. Hawaiian pizzas are a favorite in my household.
To elaborate on why Chicago Deep Dish is the best – it's made to order, and always come out piping hot in a deep cast iron pan. The sheer amount of ingredients make it impossible to eat by hand, but using a fork isn't terrible when you are shoveling crushed tomatoes and obscene amounts of fresh mozzarella into your mouth.
Pair that with the chunks of Italian sausage and that thick corn-mealy crust and you have an entire meal in one slice. Truly, its hard to have more that two slices its so filling.  While not portable like New York style, which is best served on the go, Chicago Deep Dish is something you need to stop and wait for. With today's busy society being constantly on the go, its a good thing to take a 50-minute break and think about that delicious pizza casserole that is a deep dish pizza being cooked to order just for you.
CALDER DOUGHERTY
Thin crust, and while I understand the compulsion to put pineapple on pizza for a nice sweet/savory situation, I am not a fan.
(Editor's Note: Dude, "Dough" is part of your name and you go for thin crust???)
LENA RUOTOLO
I am Team "Pizza is pizza, but don't put any toppings other than pepperoni and cheese on it." The thin crust from Domino's, specifically.
I'm too picky for food questions.
CHANCE MILLER
So the best pizza anyone could ever get is the standard crust pepperoni pizza — no thin crust, no pan pizza. Don't fix what isn't broken. If you're feeling spicy, add on extra sauce and some banana peppers. Outside of that, your pizza choice is wrong. No one should ever eat pineapples, let alone on a pizza. Thin crust pizzas and pan pizzas just aren't good and should be avoided at all costs.
(Editor's Note: Lena and Chance are A House Divided.)
RICK CUNDIFF
I tend to agree with Matt Fischer that any pizza is good pizza. And I'm often kinda partial to Chicago-style. But just to be a contrarian here, I have to go with a dark-horse contender:
Dayton Style.
The pride of Dayton, Ohio, that's a cracker-thin crust, dusted with cornmeal, with lots of toppings. and cut into two-bite sized square slices. And you betcha, pineapple should be one of those toppings.