Product Spotlight: QR Codes
QR Codes can transform your branding, boost sales and much more.
---
Our world today revolves around technology. Over the past few decades, devices such as personal computers, tablets and smartphones have gone from expensive curiosities to tools most of us rely on every day.
And we have affordable access to more powerful computing devices today than ever before. Consider this. In 1975, a Cray-1 supercomputer weighed 5.5 tons, and cost $8 million, or about $46 million in current dollars.
By contrast, the price of the just-introduced iPhone 15 starts at $799. It weighs six ounces. It features up to 60,000 times more memory than the Cray-1, and a processing speed up to 100 times faster.
Along with that amazing level of performance in our hands comes unique new promotional opportunities. One of the most exciting possibilities is the QR code. It opens up new ways to market and promote a brand.
What's A QR Code?
The QR is short for "quick response." Engineers at the Japanese company Denso Wave developed it in 1994 as a way to label and track automobile parts in manufacturing facilities.
See the black-and-white picture of lines and squares above? That's a QR Code. It's designed to make accessing a website fast and easy. Point your smartphone camera at it, click on it and it will take you immediately to a web site. (Ours, in this case.) No typing required, just point and click.
That's not all a QR code can do. It can contain music, images, email and much more. That's great news for marketers.
Before we get into the details of the QR code and the things it can do, let's look at the predecessor that made it possible – the UPC bar code.
Origins of the Bar Code
The bar code, or more properly, the Universal Product Code (UPC) had its beginnings in the supermarket, the laboratory and a literal line in the sand.
In the late 1940s, supermarket checkout stands required cashiers to manually read the price on every item and manually enter it into a cash register. This led to long lines and slow checkouts. It was frustrating for customers and tiring for cashiers.
Likewise, stocking the shelves was a laborious process too. Every item had to be marked with a price tag before being placed on the shelf. This was time-consuming and labor-intensive, a tough combination in a business with traditionally low margins.
Inventor Joe Woodland considered the problem while on a beach in Florida in early 1949. With four fingers, he drew lines in the sand. He then swept them around to create a circle as well. Inspired by the Morse code he had learned as a Boy Scout, he realized the series of lines and circles could potentially be the answer to the supermarkets' needs.
Woodland and business partner Bernard Silver filed a patent in 1949 and built a prototype. But it was limited by the technology of the day, and wasn't really practical at the time.
By the early 1970s, the introduction of the laser – which could read bar codes – and the minicomputer – which could interpret them – made Woodland's design practical.
On June 26, 1974, the first item marked with a UPC bar code was scanned at a Marsh Supermarket in Troy, Ohio. It was a pack of Wrigley's Juicy Fruit gum. Throughout the 1970s and '80s, supermarkets and other retailers adopted it as a way to improve inventory control and increase checkout speed.
Enter the QR Code
The QR code is an expansion of the bar code concept. As noted above, Denso Wave created it in 1994. The company opened the patent, allowing others to adopt the QR and expand its use rapidly.
QR codes offer significant advantages over UPC bar codes. They feature much more storage capacity. They don't require proprietary laser scanners, just a smartphone app. Virtually anyone can create QR codes easily and quickly, using a phone or tablet. Bar codes require specialized software.
QR codes can link to diverse content, including websites, music, pictures, email, PDF files – such as restaurant menus – and much more. They make it easy to share files, send texts, even make phone calls. They're much more flexible to scan, too. In fact, they can be as small as 1/10th the size of a UPC code and still be readable.
Marketing with QR Codes
The flexibility of QR codes makes them a fantastic marketing tool. In the image above, our code links to a website. This one links to an instructional YouTube video.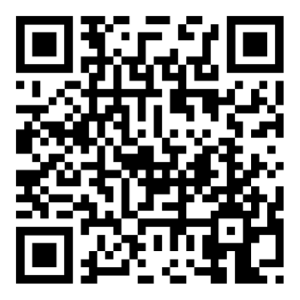 Remember, you're not limited to a computer screen either. You can print a QR code on t-shirts, hats, coins, stickers, magnets, patches, mugs, tumblers and much more. Just about anything you can imprint with a custom message, you can put a QR code on.
You can use QR codes to promote your brand, company or cause. Some restaurants began using them at the height of the pandemic to give customers touch-free menus, a trend which is still increasing. Besides offering that touch-free experience, electronic menus cut down on the expense and potential waste of paper of printed menus.
That's just the beginning. Schools and universities can use QR codes to provide information about the campus. Museums can offer descriptions of artworks in multiple languages.
Because creating custom codes are so economical and easy to create, you can use multiple codes for different purposes. You can direct both current and potential customers to different areas of your website. Link to promotional or instructional videos, as the code above does. You can add QR codes to your social media to announce special events, offer tickets for sale and so much more.
QR Codes Can Boost Sales
The great thing about QR codes is that just about anyone can use them. Just find a free QR code generator online and plug in the information you want the code to include. Then you can download the code and use it on products, on your website, and just about anywhere you can print it.
We can imprint your custom products with QR codes you supply. Give it a try and you're likely to find QR means "Quality Results." Call or email us to find out more about what QR codes can do for your organization.