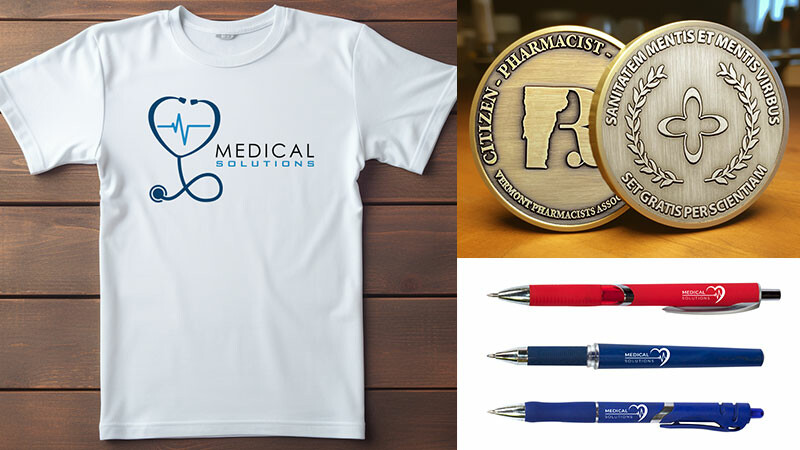 Rx for Success: Promo Products for Healthcare
Promotional products can be an effective way to reach healthcare professionals
---
Healthcare is one of the largest, most important industries in the United States. It accounts for more than 18% of the U.S. economy, and employs more than 17 million Americans.
If your business is trying to reach any aspect of that vast market, custom promotional products for healthcare are a cost-effective way to do so. With many markets contained under the umbrella term, it's important to consider what's appropriate for each one.
Let's look at some of the individual categories that are a part of the industry and how custom promotional products can be adapted to each.
Considerations for Healthcare Administrators
Heath care administration is responsible for the effective operation of every aspect of health care facilities. This includes medical, technical, business/clerical, support services such as housekeeping and dietary services, and every other aspect of complex operations.
Every one of those varied departments has one thing in common – people. Keeping staff motivated and focused on optimal patient care is a daily challenge.
Custom promotional products can help show employees at every level that administrators value and appreciate their expertise and dedication. Many different specialties, from nurses to pharmacists to lab technicians to housekeepers have designated weeks to honor their respective fields.
Promotional products presented during those times show workers they are valued members of the health care team. Items such as custom challenge coins, tumblers, mugs, umbrellas, and t-shirts can help maintain departmental morale and give employees a sense of belonging.
Gifts for Administrators
Of course, administrators appreciate custom items too. Desk items and higher end products such as custom watches make thoughtful ways to commemorate high performance and achievement of goals.
Custom challenge coins offer a meaningful way to honor significant milestones such as meeting financial or quality goals and introducing new programs or services.
Gifts for Nursing Staff
When it comes to custom promotional products for healthcare, gifts for nurses set the standard. While nurses have an appreciation week in the spring, it's worth showing them that they are appreciated year-round. Small tokens of appreciation throughout the year can help maintain morale, especially in times of heavy patient loads and staffing shortages.
Custom printed t-shirts scrubs and polos make excellent rewards. Imprinted with a positive message (hint: "Nurses Rock!" is a good one), they're a way to remind your nursing staff that you appreciate their hard work, dedication and sacrifice. On a smaller scale, well-designed custom pens work wonders too. Ever meet a nurse who wasn't carrying multiple pens?
Nurses' Week calls for additional gifts. A combo pack of custom imprinted tote bag, umbrella, even beach chairs and Bluetooth speakers show your thanks in style. If you want to reward a nurse for outstanding performance, a custom imprinted stethoscope is an excellent choice.
Gifts for Other Staff
When it comes to custom promotional products for healthcare, it's important to remember those involved in patient care, including nurses' aides, pharmacy staff, lab techs and scrub techs, among others.
Equally important is recognizing the entire team that makes patient care possible. That includes dietary, housekeeping, laundry, physical plant operators, admitting/medical records, data processing and billing.
Many departments offer rewards for years of service. These awards, typically offered in five-year intervals, recognize dedication and loyalty to the institution. These awards become keepsakes that the recipients can commemorate their years on the job.
Custom challenge coins are always a popular choice to commemorate years of service, and also for outstanding achievements such as opening a new facility wing.
What makes challenge coins work well for so many different groups is the fact that they can be personalized to fit the job, the achievement, the individual, or all three. Their design flexibility and customization options also add meaning. They become a treasured keepsake that recipients can carry and display with pride. They show that supervisors value them as individuals, not just a cog in the machine.
Gifts for Physicians
Everyone wants to feel a part of the team at your facility, including doctors. When considering appreciation or milestone gifts for physicians, remember their numbers are likely far smaller than other staff members of your healthcare facility. So it pays to think about more upscale ideas such as custom desk sets, custom imprinted fountain pens and the like.
On the other hand, gifts to doctors from outside organizations such as pharmaceutical companies can raise questions. Those gifts, per the American Medical Association's Code of Medical Ethics must be of minimal value, and directly benefit patients (including patient education.)
Appreciation Day/Week Gifts Should Be Meaningful
Small, token gifts such as pens, magnets, keychains and lanyards are fine for low-key rewards. But it's important to remember that major recognition events such as appreciation days or weeks call for more effort, and more meaningful, personalized products.
With such recognition events typically taking place only once a year, they carry a lot of weight with participants. Quality, higher-end promotional product show that you're not just making a token effort, but rather sincerely showing appreciation for an often-thankless job well done.
Marketing to Patients With Promotional Products
Promotional products for healthcare can be beneficial for patients too. Items such as custom bottles of hand sanitizer, lanyards, pens and personal protective equipment such as face masks can be customized with the logo of a facility, provider or company. They help reinforce the office brand to patients, and can even provide valuable educational information in the right setting.
Tote bags, t-shirts, tumblers, flying discs and other items can be imprinted with the office, facility, doctor or pharmacy logo. These make outstanding giveaway items at events such as memorial walks, 5K runs, screening clinics and other public events that encourage healthy living. They can raise awareness, and even funds as well.
When it comes to promotional products for healthcare, deal with a product supplier you can count on. At TJM Promos, we offer more than one million customizable products to fit any budget. If you want to celebrate National Nurses' Week, reward a long-term employee or educate patients while promoting your brand, we have just the products you need. Call or email us to find out more.