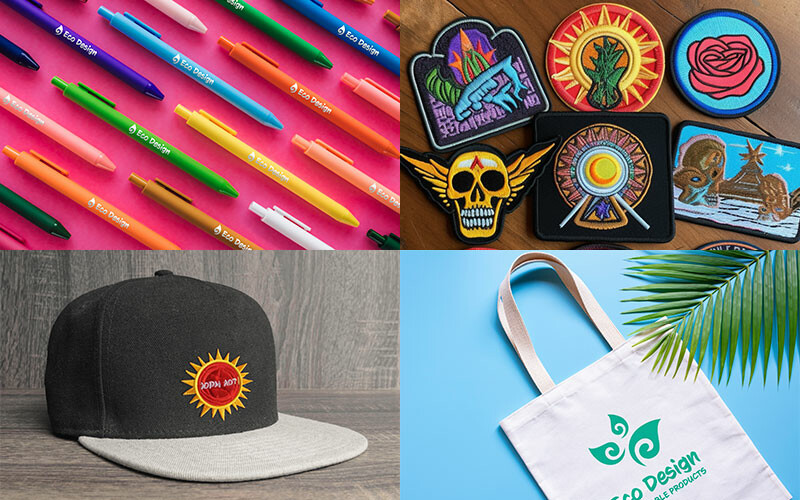 Using Custom Promos to Grow Your Small Business
Marketing a small business can be challenging. The right promotional products can make it easier.
---
Small businesses have it tough these days. In addition to your local competitors, you're probably facing challenges from the likes of Walmart, Amazon or eBay.
Against those giants, you have to make every marketing dollar stretch as far as possible. You want to increase your sales, but you can't afford to take the wrong approach.
Custom promotional products are some of the most cost-effective tools to increase brand awareness and boost sales. The key is to choose the right products to support your brand and attract new customers.
Before considering specific products, it's important to consider your promo marketing strategy. Defining what you want to accomplish will go a long way toward reaching your goals. Consider these factors:
Decide What You Want to Achieve
Don't just place an order and expect results. Before you pick up the phone or touch the keyboard to buy any promotional products, ask yourself what objectives you want to achieve.
Do you want to increase your website traffic? Raise brand awareness? Generate more leads? Increase sales? Clearly defined objectives will help you select the most cost-effective products for your specific needs.
Identify Your Target Audience
Identify who you want to reach. Don't waste time and money sending promotional products to people unlikely to ever be potential customers. Make the effort to research and define who's most likely to buy your products or services. Trade shows and conferences, industry-specific conventions, specific locations and community events are all great places to promote your brand. The key is knowing which of those is most appropriate for your specific needs.
Offer Value to Your Prospective Customers
When selecting custom promotional products, consider what potential customers can do with what you're giving them. Offer them value, something they can actually use and will keep your brand in front of them. Tote bags, pens, and USB drives are examples of promo items that people tend to use repeatedly and keep for months or more. That repeated exposure is a highly cost-effective way to build brand awareness.
Quality Matters More than Quantity
It might be tempting to distribute a high volume of cheap promotional items to as many people as possible. But that's not the most effective way to advance your brand. If you give potential customers cheap junk, it's more likely to end up in the trash than on their desk or in their hands. Worse, they're likely to associate your brand with, you guessed it, cheap junk.
If you want to ensure a positive impression, don't be afraid to use higher quality items, even if it means distributing them to fewer people. First impressions matter. Make sure yours is a good one.
Use the Power of Your Online Presence
You can combine the branding power of your custom promotional products with the reach of your social media and your website. They complement each other in multiple ways. Obviously, you can list your website on the custom products you distribute. But consider going the other way, too.
Use your website to highlight your promotional items. Offer codes and e-coupons that customers can use to obtain quality products such as t-shirts, mugs and other items. Spotlight your promo items on Facebook, Instagram, Twitter and TikTok. You can even use videos on YouTube.
A word of advice – if you choose to leverage your social media in that way, keep both your prospective customers and the characteristics of each social media platform in mind. For example, Facebook users tend to be older than TikTok users.
You can't just ignore social media, either. A recent Forbes article noted that 77 percent of small businesses today use social media, and 90 percent of social media users follow at least one brand.
What's more, the same article notes that 76 percent of social media users have purchased something they saw on social media. Combine that with your promotional products and you have one killer lineup to promote your brand.
Measure and Track Results
To ensure you're getting the most from your promotional products, set up ways to measure their effectiveness. Track what matters most to you, whether it's lead generation, actual sales conversions or other factors. The data will allow you to see what products and approaches are the most effective for your business. It also gives you the information you need to adjust your marketing mix to achieve the greatest returns.
Cost-Effective Promo Products
Now let's consider some specific custom promotional products that can be the most cost-effective for small businesses. These items generate a positive response in the greatest number of recipients at the lowest cost.
Reusable Tote Bags
With today's emphasis on sustainability, tote bags are a terrific way to get your brand out in public. Well-made bags can feature a large, easily visible logo or brand, and give shoppers a much-appreciated alternative to plastic bags. Every use gives greater exposure to your brand. Add an attractive logo that gives people a reason to ask about it and you can even increase word-of-mouth testimonials from satisfied customers.
Custom Pens
A quality pen that offers a smooth writing experience is a joy to use. A pen that feels good in the hand and writes well can produce a positive impression of your brand. Have them imprinted with your contact information and/or website and you're sure to draw in customers, with a small upfront cost.
Drinkware
Here's a great example of a higher quality product that gets results. Give someone a mug they can drink their morning coffee or tea from, or a tumbler they can take to the office, the gym or the beach, and they'll appreciate your brand. And with your logo imprinted right on it, drinkware is a constant reminder of your brand.
Tech Products
Custom power blocks make a great promo for customers on the go. In the airport, the coffee shop, or at a campsite, they'll inspire appreciation for your brand.
You don't have to spend a lot on tech products to get results, though. Something as simple as cable organizers imprinted with your logo can make a difference, especially if your business is technology oriented.
Custom Apparel Accessories
Sure, custom t-shirts, polos and jackets are great promo items, but they're just not feasible for many small businesses. That doesn't mean you can't take advantage of the branding opportunities such apparel offers.
Instead of the high-ticket items above, why not go for accessories? Caps, patches, hats, all can be customized with your logo or brand. They make outstanding giveaway items at a low cost.
Think about it: a certain farm equipment company gets a lot of exposure out of caps bearing that yellow buck on a green background. And a certain construction equipment brand gets plenty of mileage from that "feline" word in yellow or black.
Sure, John Deere and Caterpillar are iconic brands now, but they weren't always. They started small. Your business could someday be just as well-known. So why not start early with the caps and patches to go along with that status?
Keep In Mind
It's easy to incorporate custom promotional products into the marketing mix for businesses of any size, from single proprietorships to multinational corporations. The right mix of products can even help that single proprietorship grow into the multinational corporation.
You don't have to spend a fortune to get and use custom products to promote your brand. Just keep in mind that the quality of your promotional items matters more than the quantity. Know who your customers are, what they need, and give them extra value. Contact our expert sales staff for more information about how our custom products can help you grow your business.