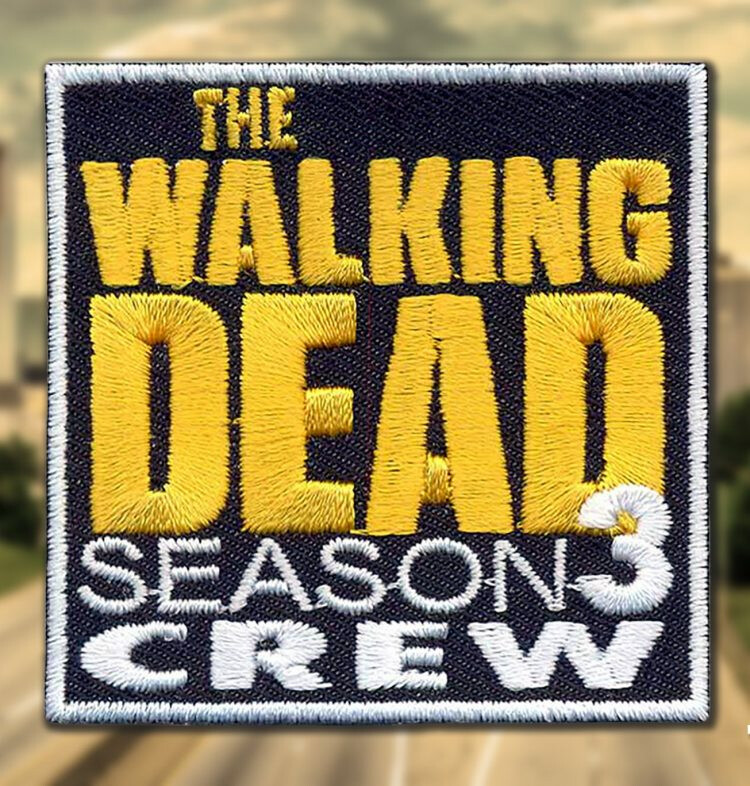 Zombies, The Walking Dead Patches, and One Awesome Day
(NOTE: This is an account of TJM patch manager Tim Allison's visit to the Walking Dead set in 2013. Some of the images say "TJM Promotions", which was our previous name before we changed it to TJM Promos. Enjoy!) A lot of us here at TJM have been huge fans of The Walking Dead for ...
---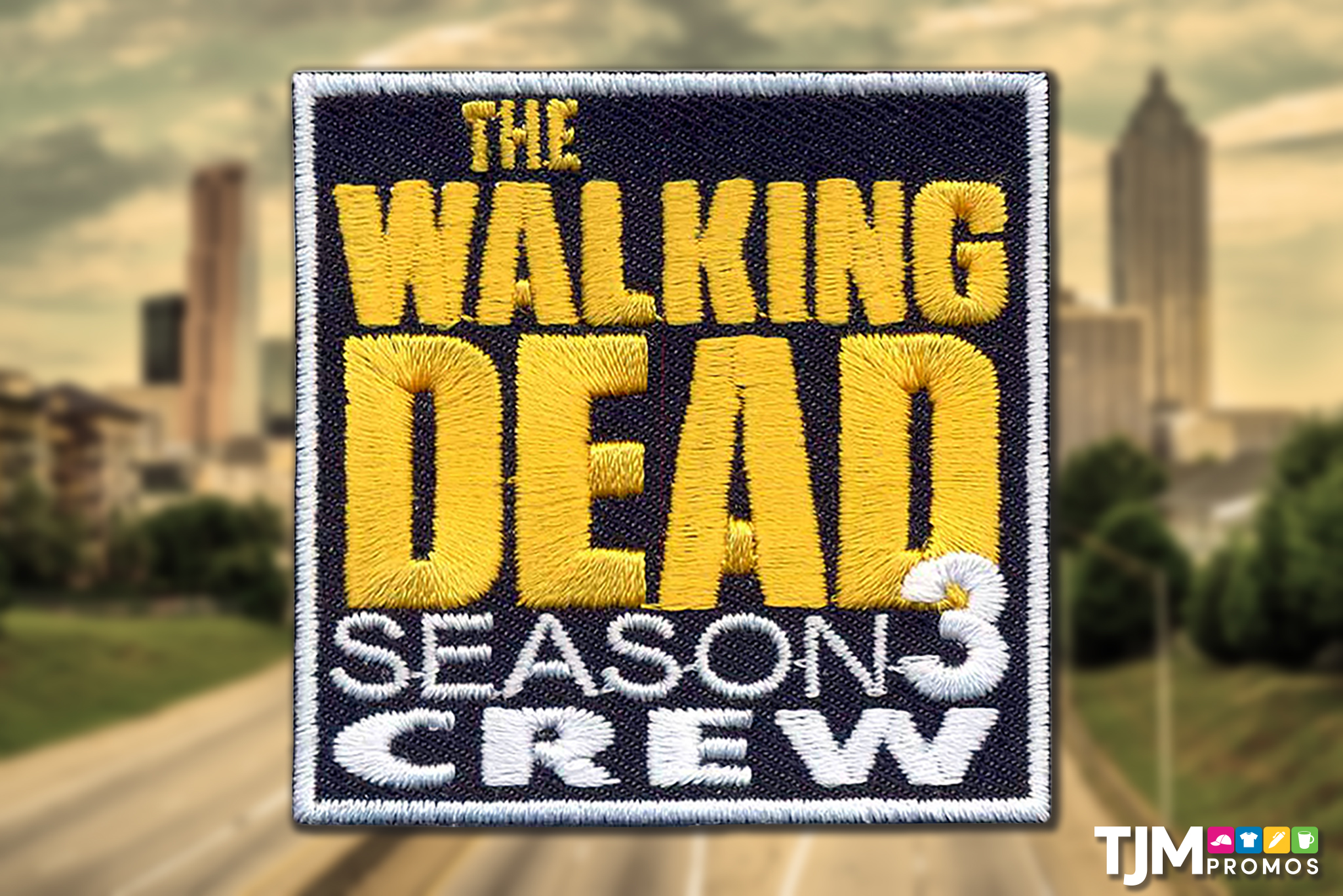 (NOTE: This is an account of TJM patch manager Tim Allison's visit to the Walking Dead set in 2013. Some of the images say "TJM Promotions", which was our previous name before we changed it to TJM Promos. Enjoy!)
A lot of us here at TJM have been huge fans of The Walking Dead for a very long time now. Beyond the series, we have been following the comics since issue one. Aficionados of all things zombie, we had just finished wrapping our own zombie film project when this opportunity presented itself.
While working on an average Monday at the office, we received a call from John Sanders, property master for The Walking Dead. John was frustrated he couldn't get a good patch design for a gift bag for the cast and crew and we were in the perfect position to be able to provide some awesome custom patches for him.
Tim (one of our graphic artist here at TJM) recognized the opportunity the project presented and came up with the patches displayed in the images above and below.
During the finalization of the order, Tim had a conversation with John about the show and how much we enjoyed it. John invited him out to the set. Tim, being well known for reacting without thinking, promptly accepted. It was only a road trip away since the show was shooting in Georgia and we are in Florida.
Tim filled us in that afternoon. We all were slightly skeptical of whether this would play out. It just seemed a bit weird and coincidental. I told him to get the information and see what we could put together. Over the next couple weeks, we would book the hotel and get the set address. Though everything was looking good, we still had some doubts.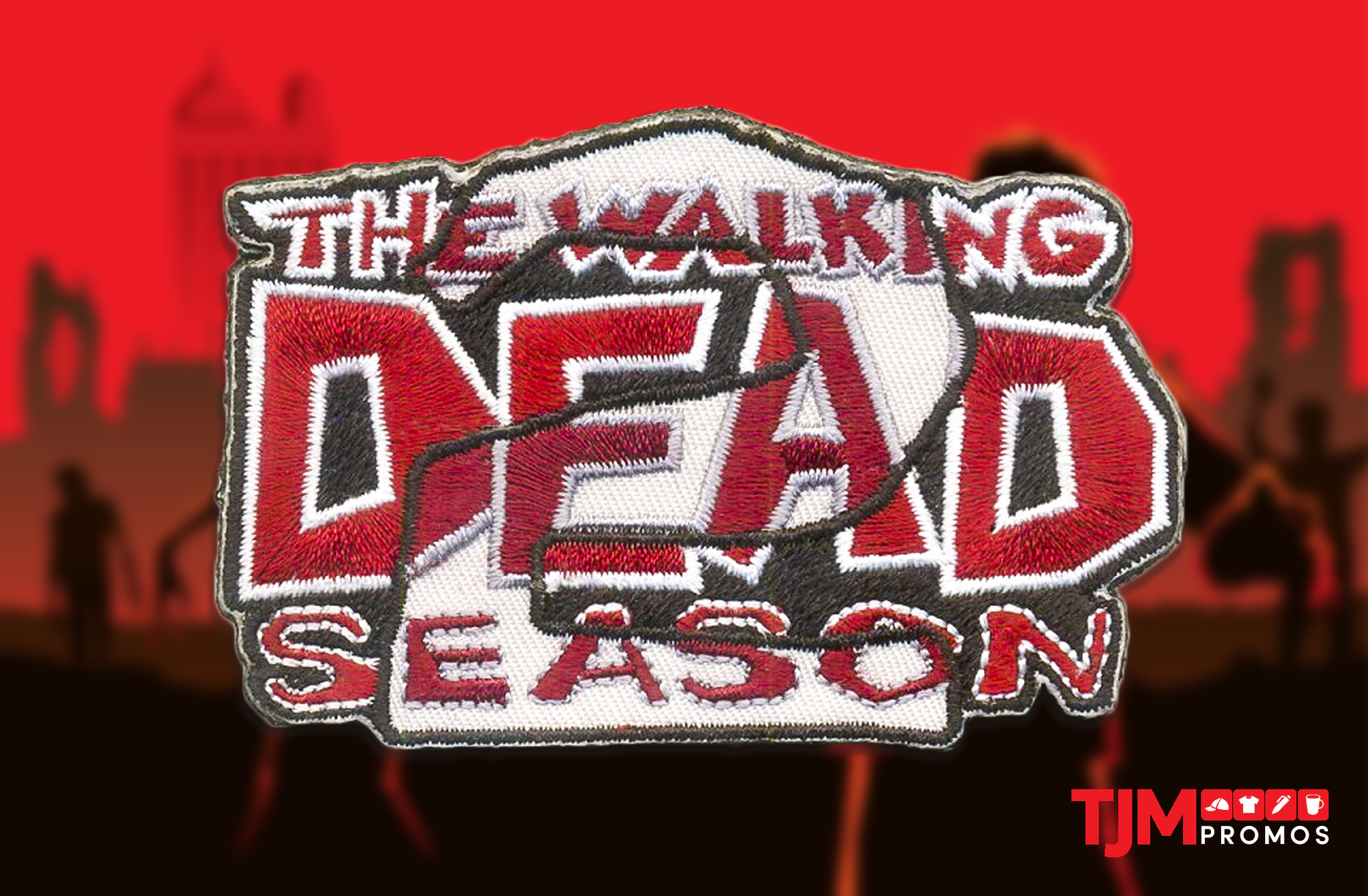 The open road was calm, and we paused at several rundown roadside stops. Many times, these little stops turned out to be smaller than their signs. No matter. We were on the road.
We arrived at our hotel in Peachtree City. It was a pleasant Sunday drive helped by listening to Ready Player One on audio book. A little football and that night's premiere of The Walking Dead season would hit the spot nicely, since we had an early wake up.
We retired to the hotel to watch the premiere, an event in and of itself considering how long we had been waiting for it.
The morning came early. We hit the road in the dark. Chilly, since the thought of coats didn't even occur to these Florida boys. The roads were dark. GPS led us down a backwoods path. We took a wrong turn. GPS redirected but the road was darker and more desolate.
Then the GPS spoke to us: "Your destination is on your right."
It was like a shining beacon in the darkest abyss. It was the set of The Walking Dead!
We pulled into what I can only describe as a military deployment. People and trucks were everywhere. A man on a radio shined a flashlight into the car, wanting to know who we were. Tim explained we were there to see John Sanders, and he motioned us through the gates.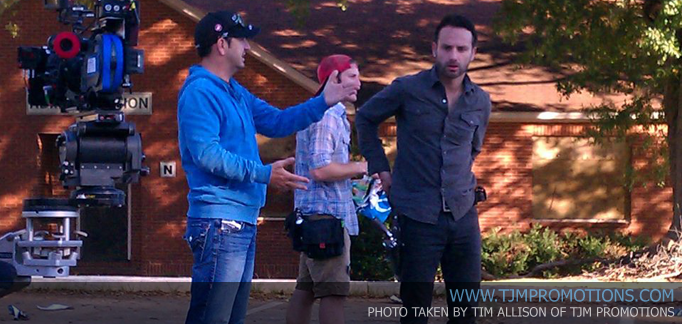 Another man with a radio directed us to park in a grassy field. We did. We were on the set of the Walking Dead. We walked to base camp where, for the first time, we were hit with the question of the day:
"Who are you guys?"
Tim replied, "We're here to see John Sanders. Where's crafty?" Crafty wasn't up yet but he pointed us to the sandwich truck. Apparently, this was all code for "Where's the food?"
Coffees in hand we walked from base camp to the set, where John Sanders greeted us. He knew who we were. Excited to see us, he tried to make sense out of all the craziness happening around us.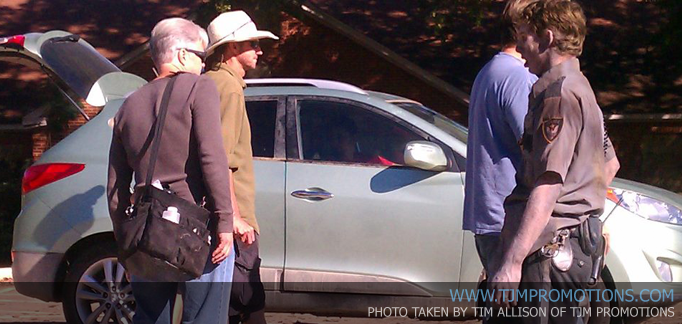 The location itself was pretty huge. A large rundown-looking industrial area, I could see all the potential the place had for the shoot. The place was alive. Trucks speeding by, gear being staged, a man scattering leaves, and a guy cleansing the set by burning sage.
This was happening.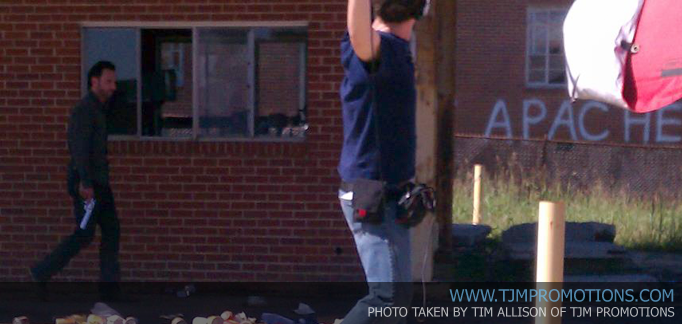 John was great, and showed us around and made sure people knew we were cool. We learned what scenes they would be shooting that day. We just stood back and watched it all unfold.
Obviously, this was no small production. Trucks were everywhere, crazy people doing seemingly random things, cameras worth more than I would ever be. By the time the sun came up and they were ready to shoot, we still had coffee and we ready for the show.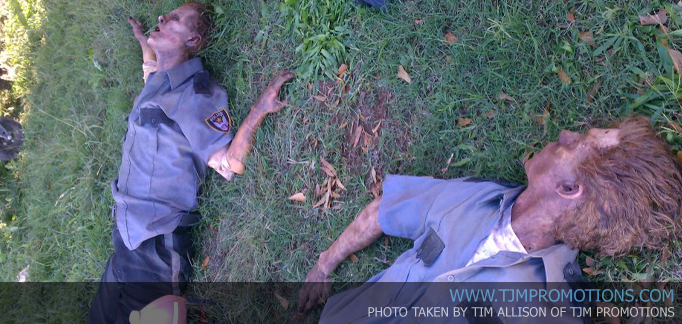 Around this time we got to meet the zombie magic man and executive producer, Greg Niccotero. Helluva nice guy, and it was a real treat to be able to see him put the finishing touches on the zombies, touching up some makeup and adding the contact lenses to their eyes.
Rick (Andrew Lincoln), Shane (Jon Bernthal), and the zombies made their way to the set, which involved a fence. A fence that we would be on the opposite side of for the next couple hours. On the other side? The bathrooms. Coffee seemed like such a good idea at the time.
About this time, John explained that he was leaving. So now we were two random guys hanging out on this big production, with no anchor. So we became ghosts, staying out of the way and clinging to any area behind the camera. We hung out with the grips, chilled with wardrobe, and when in doubt, crafty. Everyone needs snacks.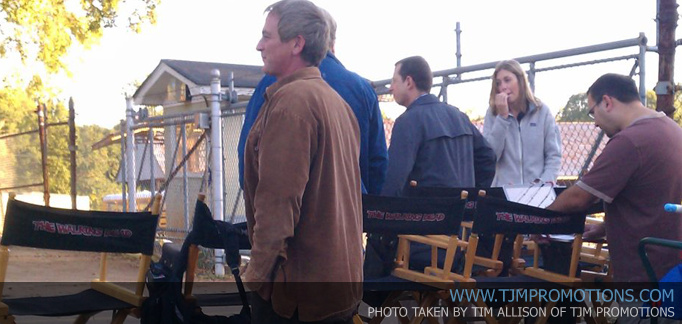 While I was talking video games with the grip heads (Dead Island!), Tim encountered Andrew Lincoln. They were talking the transfer of the story from graphic novels to television. Tim brought up how he drops the foreign accent as Andrew Lincoln was still speaking in character. He explained how it was just easier for him to stay in character on set, rather than slipping in and out.
After a while, it was time for lunch. I felt it was time to go. We had seen so much at this time, I just wanted to get out of the way. Tim said, "No. We are eating their food."
We hit the line of what was an epic catering spread. Really tip top. We had few options for a table by the end but we ended up where we needed to be. Once again, our random jobs paid off, as I gave cell phone advice to those at the table. In this discussion, we brought up our location in central Florida, and the set photographer, Gene, took interest.
It turned out Gene lives right up the road from us. We talked about our projects and were all amazed we lived right under each other's noses. We even knew similar people. We exchanged contact information, explaining how weird things had been happening for us ever since we put our zombie production together. Gene said, "Like being on the set of The Walking Dead?" We made plans to meet up once we were all settled back in palm tree land.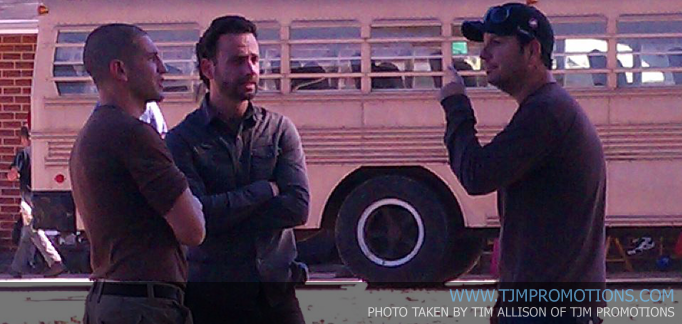 After lunch, the locations kept moving, but things were starting to make a bit more sense to me. I began to recognize all the crews and what they did. What I once thought was organized chaos I soon began to recognize as the well-oiled machine that it was. It really was quite the production to witness come together.
The afternoon moved on and we watched the locations move, helped some people move some stuff, and I found myself hanging out with the zombies, showing off tattoos.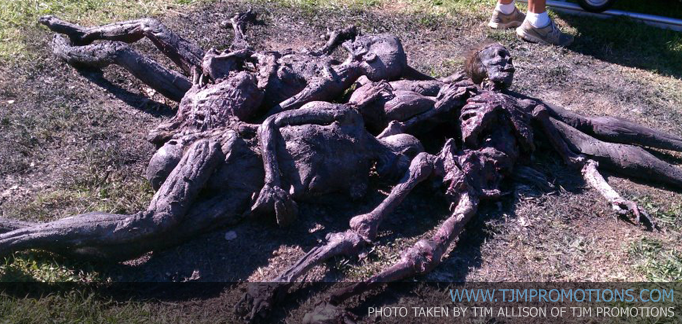 The most special part of the day was when the producer brought everyone on set together for an announcement. She read off the numbers from the night before's premiere. The Walking Dead season 2 premiere was watched by 7.3 million viewers, and if you count the encore which ran immediately after the number jumped to 11 million. This was an increase of 38% from the show's premiere the year before, and set a record in the 18 – 49 age demographic.
There was much rejoicing among the cast and crew, and it was pretty special to witness. Shortly afterward, we decided to leave. While walking out, John Sanders blasted back onto the set in his van rocking Avenged Sevenfold and threw us the devil horns. He stopped in front of his prop truck and asked if we had a good time. Yet again we subdued our fanboy urges and simply thanked him.
Who would have thought that a day with The Walking Dead would have been one of the greatest yet? Oh, and they loved the custom patches.