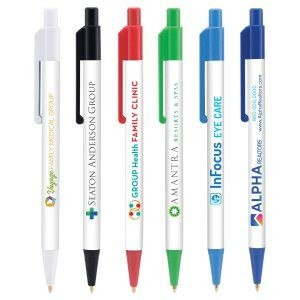 Build Your New Business Brand With Promo Products
Custom promo products can help get any business off the ground
---
Getting a new business off the ground is always a challenge. Even if you have a fantastic product or service, it takes time and effort to get noticed, to even let people know you exist. On top of that, money can be tight for at least the first few months, limiting your ability to get the word out.
That's where custom promotional products can help. They're among the most cost-effective ways to boost brand awareness that leads to sales.
"I can't afford them," you say? Think again. Custom promo products have never been more affordable. Even with a limited budget, you can order and distribute products that will help your fledgling business begin to thrive.
Promo as Part of the Plan
It's important to keep in mind that promotional products are part of your overall marketing plan. It's not enough just to rely on any one aspect of marketing concepts, including promo items, to successfully boost your brand. You need a multifaceted approach that incorporates multiple strategies.
Custom products are one aspect. Others to consider include:
· Social Media
· Influencer marketing
· Search Engine Optimization
· Content Marketing – blogs, videos, podcasts, etc.
· Networking
· Direct Mail
Every business is unique, and needs its own specific marketing strategy. Having said that, custom branded products are an excellent place to start.
Where to Begin?
To effectively market your brand, you need something recognizable. That can be the brand itself, or you can design a custom logo to represent it. Either way, it's important to be consistent. Colors, fonts and styles should stay the same from one branded product to another. You want to make your brand or logo instantly recognizable.
Start by crafting your logo. Whether you want the brand to be a single word, an elaborate logo, something in-between or both, have a clear idea of what you want.
Consider it from the potential customer's point of view. Will your design make them think immediately of your business? Does it give a clear impression of what your brand is about? Refine it until it does just that.
Once you've developed your design, it's time to consider the custom products that will work best for you. That will depend, in part, on your business.
If you sell a product, consider representing it in your logo. If you sell vacuum cleaners for example, why not have a stylized drawing of one in your logo?
If you're in a service business, once again, think like a customer. If your business is air conditioner repair, what are you really selling your customers? You're selling cool, chilly comfort. So represent it – igloos, icicles, snow. Anything that will remind potential customers of what they want, and what you are promising to give them.
Once you've developed your design, it's time to consider the custom products that will work best for you. That will depend, in part, on your business.
Keep in mind that the complexity (or lack thereof) of your logo can affect the cost of your custom products. The more intricate your design, and the more colors it includes, the more costly it's likely to be to print. Sometimes, simple is best.
Low-Cost, High-Impact
Promotional products in general are a low-cost, high-impact way to boost brand awareness. A relatively small investment can yield big results, compared with other marketing efforts such as online or print advertising.
Some products are especially economical for small businesses. Consider custom pens. Imprinted with your logo and contact information, they're something everyone needs now and then. Have your customers sign invoices, sales contracts or other documents, then give them the pen to keep.
A Convenient Reminder for Reorders
Studies have shown that people value pens and tend to keep them for months. Every time they reach for your pen, they're reminded of your brand. And that's especially valuable if you offer recurring supplies for their products.
Let's say you sell printers. The pen reminds your customers of your contact info when they need to order ink, toner or paper. One-stop shopping, convenient, and no need to look up your potential competitors.
Pens are great from a budget perspective for several reasons. They're popular, which means you can order large numbers of them. That in turn lowers the cost per item because they're lower priced in bulk. They're lightweight, which keeps shipping costs low. And they're easy to distribute at the point of sale or demonstration.
And what goes with pens? Custom notepads, of course! Have them imprinted with your logo and keep them convenient for customers to grab. They're even more visible than pens. In fact, you can even offer them together with pens as a double reinforcement of your brand.
Other Products
Keychains are another helpful product. They're low-cost and they put your brand right into your customers' hands every time they're used.
If your business is beverages, there are a couple of worthwhile options. Custom coasters are affordable, especially when ordered in bulk, and can be distributed widely with ease.
At a bit higher price point, custom bottle openers also are a powerful product. Imprinted with your logo, they can be incorporated into challenge coins or keychains that keep them in your prospects' pockets.
Don't forget custom lanyards for your staff. They're an easy way to reinforce your brand and add a professional look to your office or retail space.
Sometimes, More is More
The above suggestions are all good, effective marketing tools. If you can stretch the budget a bit more, sometimes spending more gets you more bang for the buck.
Custom t-shirts, for example, make outstanding giveaways for contests, special events, or even for staff wear. Granted, they cost more than pens or keychains, but they also have a greater potential reach.
A branded t-shirt worn in public essentially becomes a walking billboard for your brand. The more people see it, the more your brand awareness grows. They can be highly effective, especially for youth-oriented products.
Start Small and Grow
In general, it's best to start small with your branding efforts, at least at first. Start with something simple like pins, then move up to higher-end products as your brand becomes more successful. A good provider can guide you as to which products can best serve your brand at the lowest cost. And remember, you can always mix and match.
At TJM Promos, we can answer any questions you might have about our full line of custom promo products. With more than one million products to offer, we feature something for every budget, for new and established businesses alike. Why not give us a call or email us to find out how custom promotional products can benefit your business?