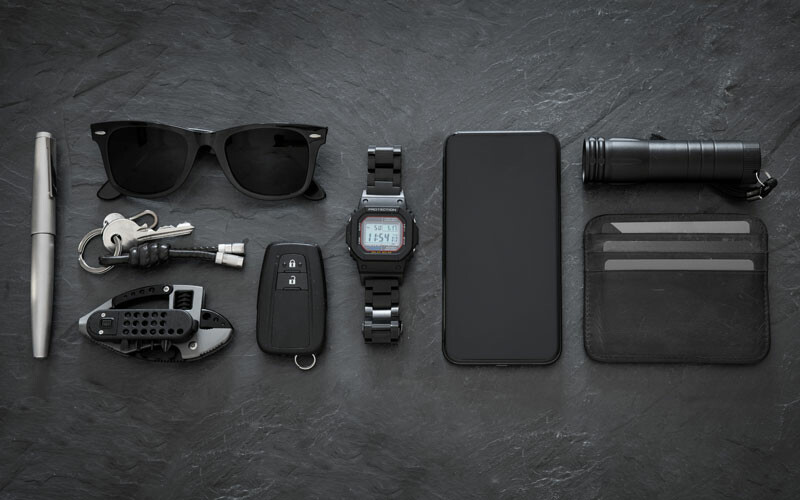 Custom Everyday Carry Products Keep Your Brand in Hand
Custom Everyday Carry Items are a practical way to build your brand
---
You're all set to go to work, school or out to a movie. Before you walk out the door, what's on your checklist?
Wallet? Check. Phone? Check. Keys? Check.
Those items are among what many call everyday carry or EDC items. The term might be recent, but it's not a new idea. Simply put, EDC is a term for the things you don't leave home without.
We all have such items. Whether you carry them in a pocket, purse, briefcase or even your car, they're the necessities you need to get through the day.
Every individual's EDC gear will vary, depending on their personal or even professional needs. The useful items you carry are specific to your needs and/or wants to get through your day.
Everyday carry items offer great potential for customized branding. It's a terrific way to promote your brand and give customers, staff members or students things they'll use often. It's all about utility.
Well, mostly about utility. Some people consider their EDC a form of self-expression and a fun hobby. That leads to robust online discussion groups about specific gear and what to be prepared for. That's a great market for custom branded products of many kinds.
Everyday Carry – The Basics
Let's break down EDC into three basic categories to start with: Identification, Communication and Other Situations.
Your wallet is an example of identification. It carries your driver's license or other state I.D., your credit cards and possibly cash. That shows who you are, and gives you access to goods and services.
Communication includes your cell phone, of course. But it also can include pens and notebooks, not to mention a tablet or even laptop.
Other situations is a category that includes anything else. That might be a pocket knife, a multitool, even a spork. The range of things that can fall into this category is practically limitless.
Keep in mind that everyday carry doesn't have to be confined to what you carry on your person. It can include things such as a first aid kit that you keep in your car or truck as well.
The Culture of EDC
Everyday carry has become a popular hobby in recent years. Enthusiasts go beyond the customary items to focus on "being prepared" for anything that might arise in their daily lives. That can be as simple as carrying a multitool that performs multiple functions (screwdriver, scissors, knife, etc.) to carrying job- or hobby-specific items.
Those who embrace EDC culture tend to be interested in technology and the latest trends. They embrace well-made items such as "tactical" flashlights, paracord and high-quality sunglasses. Collecting can even be more entertaining than simply using the same items every day.
EDC enthusiasts support a busy online community. They share their specific gear, make recommendations to others and exchange information frequently.
Some everyday carry basics are nearly universal. But EDC enthusiasts often take them to a higher level than ordinary.
Take wallets for example. Sure, an ordinary leather wallet works fine for most people, but that's not enough for EDC fans. They might go with an especially slim model, or one that blocks RFID signals. (For the non-tech folks, that makes it difficult or impossible for someone with a scanner device to read your credit card information without your knowledge.) Others choose materials such as titanium or carbon fiber.
Common EDC Items
Most of us don't get that exotic. There are some items that you might want to consider adding to your EDC arsenal, however, just to make life easier or be ready for opportunities that might arise.
Pocketknife
Among the most common additions to the standard triumvirate of wallet/phone/keys is a pocketknife. It comes in handy for opening boxes and packages, cutting string or thread, and much more.
Multitool
This is another popular item, offering more versatility than just a knife. Multitools can serve as screwdrivers, scissors, pry bars, pliers and more.
Flashlight
It's true virtually every smartphone sold today includes a flashlight function. But for much brighter light, a wider beam pattern and much better battery life, a dedicated flashlight is the answer. Available in a wide range of sizes and shapes, new flashlights offer LED brilliance and efficiency in a compact package
Compass
GPS is fine, at least until your phone battery conks out. Then, there's nothing better than a simple analog compass to get you where you need to go.
First Aid Kit
These can be either small personal kits that can be carried in a pocket or backpack, or a full array of items that can be kept in the car. It's better to have it and not need it than vice versa.
Wristwatch
Even in the cellphone era, a wristwatch can make sense. They allow for a quick glance to tell the time, and can even be equipped to show elapsed time, stopwatch functions, and many other functions.
Pens and Notebooks or Notepads
It's always good to have a way to jot down notes, sign and document or write down details you want to remember. A good pen and notebook or simple notepad gives you the ability to do so.
Marketing with EDC Items
The great thing about EDC gear is that so many people use it! That makes customizing promotional products to boost your brand is a breeze.
Custom keychains are a perfect place to start. Small, economical and used daily, they put your brand right into potential customers' hands.
Pens and notebooks are a natural. A good quality pen and a handy notebook imprinted with your logo is a great way to make a positive impression and keep your brand top-of-mind.
USB drives are popular as well. As a way to store and transfer digital data, they're unbeatable, and can easily be attached to a keychain.
Reusable water bottles are always a welcome part of being prepared. For outdoor use, in the office or car, or at home, they're a way to conserve resources and support brand awareness at the same time.
Small, custom branded bottles of hand sanitizer are more popular than ever in the past few years. Your customers will associate your brand with helping to keep them safe.
Phone chargers, cables and power banks are a way to engage frequent travelers. A way to keep a phone charged in the airport or on the plane is worth its weight in gold. Have your name imprinted on them, and your brand will be sure to be appreciated.
Everyday carry can be whatever you make it. Some choose to simply have the keys, phone and wallet. Others will add more gear, and some will go on to full-fledged collecting and displaying of EDC items. Your branded products can appeal to all of them. Call or email us to find out more about how branded EDC gear can help your business.