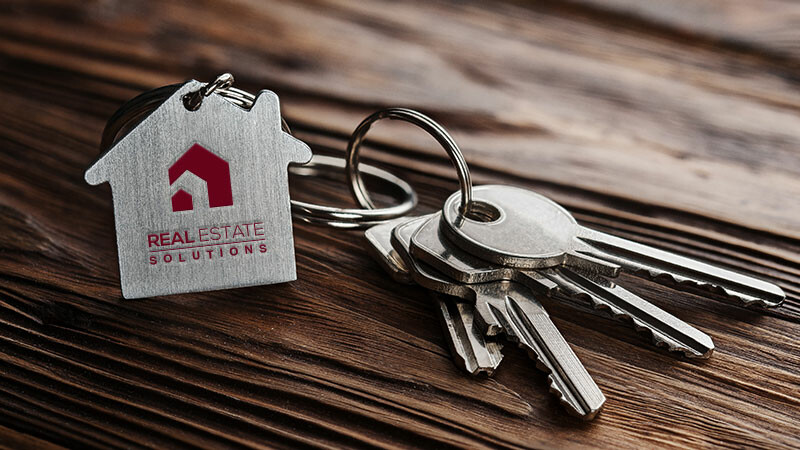 Product Spotlight: Custom Keychains
Keychains serve many functions, not least of which is marketing
---
With so many different promotional products to choose from, it's not always easy to decide which is right for your specific needs, especially for a business. Large, small, elegant or economical, there's a custom product out there to fill just about every niche.
One of the most cost-effective custom promo products is the humble keychain. It's affordable, portable, and puts your brand or logo directly into your customer's hands, usually multiple times a day. What more can you ask?
The concept of a keychain, let alone a promotional one, has evolved over the past century or so to include multiple functions. This simple product can be one of most useful, progressive promotional tools your business can use.
Before There Were Keychains, There Were Keys
Before we dive too deeply into keychains, it's helpful to look at the reason why they exist at all – keys. After all, without keys, there'd be no need for keychains, right?
A Brief History of Keys
The history of keys, as you might expect, goes hand in hand with that of locks. Locks and keys date back more than 6,000 years. One early example was discovered in ancient Assyria. The first such locks and keys were made of wood.
That had obvious disadvantages, including size and weight. Not to mention the fact that wooden locks were relatively easy to defeat by breaking them with a brute-force attack.
Romans provided the next step in the evolution. They created metal locks and keys, coupled with a more secure lock design.
While Romans didn't invent the keyring, wealthy citizens did wear keys as rings. That served a dual purpose – keeping the keys handy, and demonstrating the wearers' affluence to others.
The Industrial Revolution of the late 18th century brought the ability to manufacture items more precisely. That led to smaller, more secure, more rugged locks.
In the beginning, most people didn't need too many keys. One for a home, maybe one for a business or an outbuilding. A simple keyring was sufficient for most needs.
With the advent of automobiles in the late 1800s, the need for keys really took off. Key-operated switches controlled the electrical systems of even the earliest vehicles such as Ford's Model T. More cars meant more keys – and a need for a convenient way to carry them.
As cars became more sophisticated, with locking doors and trunks (boots for or British readers), it was common to have two or more keys per vehicle. And of course, there were still house keys, office keys and building keys to contend with.
Keychains Begin
The automobile prompted more people to carry keychains. In the beginning, keychains were simply that – a small chain people slipped their keys onto. They served their purpose, but did little else.
Before long, folks started attaching things to the keyrings to make them easier to keep track of and carry. That's evolved over the years to the keychains we know and love today.
From simple wood or metal designs, keychains gradually became more elaborate over the decades of the 20th century. Modern keychains can still be made of those materials today, but are more likely to be made of plastic, rubber or even leather.
Adding Style to Function
At first, keychains were simply functional. They were a way to keep all your keys in one convenient spot, easily accessible. They might have a simple metal circle attached, but not much else.
By midcentury, plastic keychains were becoming more common, and with them came imprinted images. These ranged from simple auto company logos to dealer names to cartoon characters. Today, it's easy to find keychains with all manner of custom imprints.
Branding with Custom Keychains
That's where marketing with keychains come in. It's easy and affordable to order custom keychains with your business logo, club name, school mascot or just about anything else you want on them. And you're literally putting your brand into consumers' hands.
Depending on your marketing needs, you can customize keychains in several different ways. Here are a few examples:
Basic Plastic Keychain
These are great for a simple logo or brief text message. They can be just about any shape you want. They're good for retail businesses.
Metal Keychains
A step up in quality from their plastic counterparts, metal keychains can carry an engraved logo or personal message. They make excellent corporate rewards.
Carabiner Keychain
These keychains are especially popular with campers, hikers, skiers and other outdoor enthusiasts. A carabiner clip allows for a secure attachment to belt loops or backpacks, making it harder to lose one's keys. These are an ideal brand enhancer for ski shops, outdoor stores and other shops that cater to an active lifestyle.
Floating Keychains
For a boater or personal watercraft operator, keychains that float can be a literal lifesaver. They make it harder to lose keys that fall into the water. They're great for promoting your marina, boat dealership, repair shop or even fishing gear emporium.
Multi-Tool Keychains
Multi-tool keychains offer an opportunity to promote your brand to EDC (Every Day Carry) enthusiasts. These handy little gadgets add features such as knives, screwdrivers or bottle openers to the keychain.
Speaking of bottle openers, they're one of the most popular keychain options available. They're a fantastic promotional item for bars, convenience stores, soft drink retailers and other places that offer liquid refreshments.
Leather Keychains
Now we're moving into a more luxurious realm. Leather keychains can provide your brand to fashionable aficionados of high-end products. Your logo on leather makes a sophisticated statement.
Photo Keychains
These allow the user to insert a small photo into the keychain to carry with them at all times. They can use it to remind them of a loved one, a favorite pet, even a special event. Your brand on the reverse can be a reminder of happy times with others.
Keychains As Part of Your Marketing Mix
Because they are so small, and affordable, it's easy to overlook the contributions keychains can be making to your integrated marketing plan. They're excellent giveaway items for trade shows, conventions and at points of sale. For any business that sells cars, trucks, or any kind of power equipment that requires a key, they're a no-brainer. For other businesses, they can be used strategically to increase your brand awareness.
If you'd like more information about how custom keychains can help your business thrive, call or email us today.