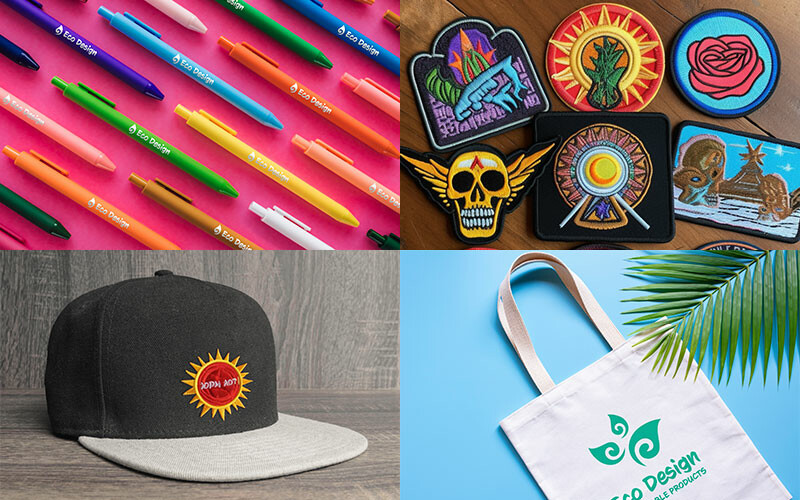 Avoid Common Promotional Product Pitfalls
These tips will help you avoid potential problems when ordering custom products
---
As you might expect, we're big believers in the power of custom promotional products. Custom promos are among the most effective ways to boost your brand awareness and market reputation. They're great for increasing sales and revenue, and boosting your bottom line.
We've been in this business for the better part of 20 years. We've seen lots of businesses and individuals achieve success with our products as part of their marketing mix.
However, we've also seen some major goofs when it comes to using promo products effectively. Let's take a look at some ways to avoid mistakes when ordering and using promotional products.
Know Your Target Audience
This is absolutely critical for any business. If you don't know – or worse, ignore – the wants and needs of your target customers, you're not going to get very far.
Obviously, that applies to every aspect of your business, not just promotional products. Keep in mind that promo products are the first impression some people with have with your company.
If you give notepads and pens to tech-savvy buyers, you're liable to be overlooked, or branded as old-fashioned. Items such as custom USB drives and Bluetooth speakers are much more likely to get a positive reception.
Don't Waste Time (and Money) on Low-Quality Products
We can't emphasize this enough: For many potential customers, your custom promotional products will be the first impression they have of your company, product or service. If your promo items are low-quality junk, people will associate your brand with low-quality junk.
That may sound harsh, but it's true. Do you really want to stake your brand reputation on the lowest bidder pens that leak, or apparel that falls apart? Of course not.
Keep in mind that it often costs little or even no more to get higher quality custom products than it does to get the cheap stuff. Don't be afraid to compare prices and quality before committing to a single supplier. Your brand depends on it.
Keep the Customer in Mind
Think about what value the customer will get from your promotional product. Ideally, they should be able to use the product regularly. Custom tumblers and mugs, for example, give customers something they can use often and that will reinforce your brand every time they do.
On a related note, be aware of sustainability issues. Single-use bottled water might be acceptable if you're sponsoring a 10K run, but for more long-term consumer acceptance, reusable water bottles are a better bet. The more eco-friendly your custom products, the better your brand looks with today's environmentally conscious consumers.
Pay Attention to Branding
Your brand, logo and contact information needs to be clearly legible on the promotional products. That's what it's all about – getting your brand out there and giving potential customers an opportunity to contact you. Without that, your promotional products are likely to be much less effective.
Have a Well-Designed Logo
Your logo should be a clear reflection of your brand or message. Keep it simple. Overly complex logos can be difficult to read or interpret, and actually reduce the effectiveness of your message. You want it to be clear, visually appealing and easy to read. A logo should also be consistent across all of your branding, not just promotional products.
Allow for Ample Delivery Time
Nothing's worse than ordering promo products for a specific event and then not having them in time. To ensure your products arrive on time, be sure to factor in production and delivery times. Order far enough ahead that your products will have plenty of time to arrive in advance of the event.
Don't forget to factor in considerations such as factory holidays, especially with products produced overseas. Those can delay production significantly. Also consider potential shipping delays. Those can be caused by heavy shipping traffic, labor-management issues and even weather. Allow for as many contingencies as you possibly can.
Order Sufficient Quantities
We'll grant this can sometimes be tricky to calculate. Order too few products and you risk running out too soon. Order too many and you risk having to warehouse the overage, at least temporarily.
Try to be as accurate as possible in assessing your product needs. Your product supplier can be helpful in this regard. They have plenty of experience in serving organizations of all kinds, and can make helpful recommendations.
Choose Your Provider Carefully
We strongly encourage you to check us out, as well as any other providers you might be considering before you order. Look at length of time in business (as we noted, for TJM that's almost 20 years), reputation online, Better Business Bureau ratings (in our case A+). Take the time to talk to your sales representative, and make sure they understand what you want in your custom products, and that they are able to deliver exactly that.
Review Proofs Carefully, and Consider Samples
If your provider sends you a free digital proof of your product(s), review it carefully. Check for spelling, grammar, numerical and design errors. A good provider will always let you make revisions without charge until your design looks exactly the way you want.
You might want to consider ordering samples for some products before placing a larger order. That gives you the opportunity to check the design and quality of the product(s) before you commit to a large order.
Remember, to have the greatest benefits, custom promotional products should be part of an integrated marketing mix. Digital marketing, in-store promotions, online sales and other techniques all should work together to present a unified presence for your brand. With a multi-faceted approach, your organization will be poised to reach it's greatest potential for success.
At TJM, we're committed to your total satisfaction with your custom products. Our goal is to help you be successful. We're always willing to listen and to suggest ways to make your marketing plan even stronger. We stake our reputation on giving our customers the best products, at the best prices, and with the finest customer service in the industry. Call or email us today to find out more.