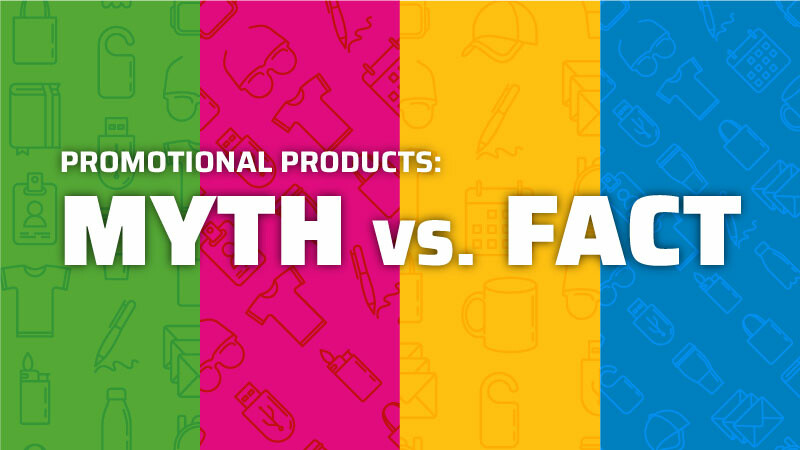 Busting A Few Myths About Promotional Products
Straight talk about custom promotional products
---
It's no secret that any means of marketing your business, school or organization has both pros and cons. The trick is determining which methods and approaches best balance your needs and budget to establish the best marketing mix for your needs
Some claim there are too may disadvantages with custom promotional products to make them effective marketing tools. We're here to tell you those people are wrong.
When it come to promotional products, it's easy to turn those supposed "disadvantages" into positives that powerfully work to increase awareness of your brand. In many cases, the answer is simply finding the right provider who's willing to work with you to meet your custom product needs. Let's take a look at some myths and facts about custom promotional products.
Myth: Custom Products are Too Expensive for My Business
Fact: Yes, custom promotional products require an initial capital outlay. But that expense doesn't have to be huge. With more than a million different custom branded products available, we offer custom choices. It's easy to find an economical product in virtually any price range.
Keep in mind too, as the quantity goes up, your cost per item goes down, This can result in significant savings and give you more opportunities to promote your brand at the same time.
Myth: Custom Products are Too Time-Consuming
Fact: An experienced custom product supplier can help you plan and meet your timelines to get your products in your hands and to potential customers promptly. A good company can even handle rush orders. With a little bit of advance planning, you can take full advantage of seasonal promotions, special events and more.
Myth: You Risk Getting Poor Quality Items
Fact: Not if you deal with a reliable supplier, and follow a few simple tips.
Don't just go for a provider with the lowest price. Do a little research. Find a company that values customer service. Before you fall for flashy TV ads, check your local area suppliers.
Deal with a company that's been in business for several years. They'll have been in business long enough to build up a reputation with other customers.
Buy from a company that offers a 100% Satisfaction Guarantee. Make sure they're willing to replace products defective in materials or workmanship.
It's impossible to overstate the importance of high-quality promotional products. A bad promotional product is worse than none at all. When your reputation is on the line, finding a reputable provider is critical to the success of your promotional products and your marketing program overall.
Myth: It's Hard to Measure Return on Investment
Fact: Of course you want to know how well your marketing efforts are working. You want something measurable, something that can be tracked. While it has been true in the past that promo products have been hard to measure, that's no longer the case.
Today's online marketing methods make it easier to track the performance of your promotional products than it's ever been. By using a unique URL on your custom products, you can tell exactly how much interest they're generating. Better still, consider using QR codes. These can give you even more information about which specific products are performing up to your expectations and which are not.
Myth: Promo products take up too much storage space
Fact: A reputable supplier can easily arrange to have your products distributed for you, right to your customers or prospects. And if you do use onsite storage, your provider can help you determine the right level of inventory to keep on hand. If you're worried about using too much space, or running out of inventory at crucial times, they can help.
Myth: Promo Products Have a Limited Reach
Fact: There's no reason you can't reach out to a global audience with custom products. Pair them with social media, email marketing and other proven strategies and you can easily expand your reach to any size audience.
Myth: Promotional Items are Irrelevant Today
Fact: Only if you choose products that don't suit your audience. Give your target audience items that they find useful and you're putting your brand right into their hands. They stay aware of your brand when they're ready to buy.
Myth: Custom Promotional Products are Bad for The Environment
Fact: There's an ever-growing selection of products made from recycled and/or sustainable materials. A good supplier can help you choose products that are both environmentally responsible and excellent representatives of your brand, product or service.
Myth: Promotional Products Alone are Enough
Fact: Custom promotional products are a fantastic way to increase brand awareness, increase public engagement with your cause, promote products, services, events or agencies. But they can't do all the heavy lifting.
Custom items are just the start. To get the maximum possible value from promotional products, they have to be part of an integrated marketing strategy. By combining them with social media, websites, podcasts, even legacy media such as radio, television and print media, you'll gain the greatest possible impact. The whole program adds more value than the sum of its parts.
Choose the Right Supplier to Bust the Myths
At TJM, we've heard all these myths and plenty more. We're here to tell you that they are just that – myths. We've been selling custom promotional products to individuals and to businesses and to other organizations large and small for nearly 20 years. We know how to supply your organization with the right products, at the right price, to give you the maximum benefit.
We're dedicated to outstanding customer service. Our experienced staff will guide your purchases from design through product selection, to manufacturing and delivery. We'll make sure you get the products you need at the right time, in the right place and at the right price.
We offer a massive selection of more than 1,000,000 customizable products. While that might sound overwhelming, we'll work with you to reduce that number to a select few products – possibly even just one – that will give your marketing program the greatest possible power to promote your brand. Call or email us today to find out what custom promotional products can do for you.